UNA donates $10,000 to Canadian Red Cross for Alberta wildfire relief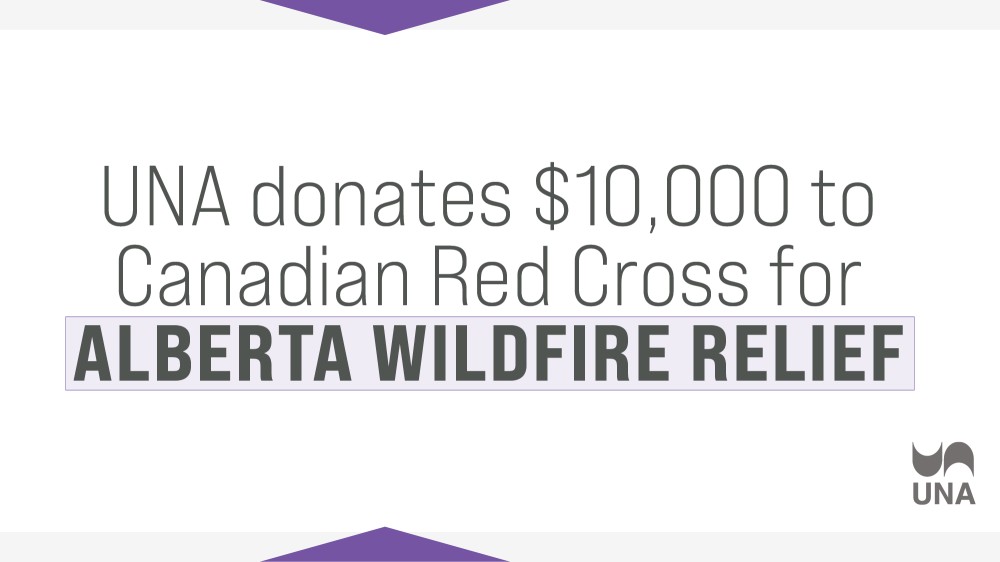 United Nurses of Alberta is supporting Canadian Red Cross efforts to provide assistance to people affected by the wildfires raging across Alberta.
UNA's Executive Board approved a $10,000 donation to the Canadian Red Cross, which is using the funds for immediate and ongoing relief, recovery and resilience efforts in response to fires, and community preparedness and risk reduction for future natural disaster events within Alberta.
More than 30,000 Albertans have been evacuated from their homes since the wildfires began spreading in early May. Many communities like Drayton Valley, Edson, Evansburg and Entwistle, and First Nations communities across the north of the province, were or are still being threatened by the wildfires.
Individual UNA members are encouraged to contribute online to Red Cross efforts.
UNA supports nurses affected by wildfire
The well-being of nurses and their patients is UNA's top priority. UNA encourages nurses affected by the wildfires to seek assistance through their employer provided supports.
The AHS Employee and Family Assistance Program (EFAP) is a free and confidential service available 24/7 to support employees and their families. Please visit Homeweb.ca or call 1-877-273-3134 for support. They offer Crisis Management Services, EFAP Counselling Services, Life Smart Services and more.
Nurses who have been evacuated and need immediate assistance, phone 911. For non-emergency health advice, including information on your healthcare options, call Health Link at 811. Experiencing an evacuation can be stressful and overwhelming. If you need to talk, call the Mental Health Help Line at 1-877-303-2642 or Health Link at 811.
To ensure staff and patients are safe during the provincial wildfire emergency, UNA and Alberta Health Services have agreed to temporarily extend timelines for labour-relations matters.
UNA members with any questions or concerns about how this ongoing situation is impacting their workplace should contact their UNA local executive or Labour Relations Officer at 1-800-252-9394.