UNA members employed by AHS and Covenant Health have until October 16 to submit proof of vaccination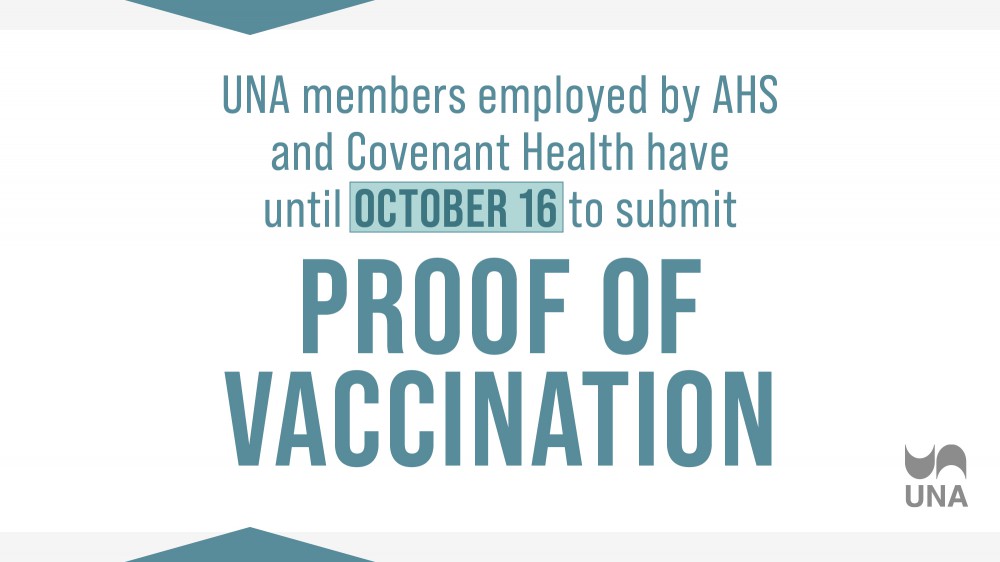 United Nurses of Alberta members employed by Alberta Health Services and Covenant Health have until October 16, 2021, to submit proof of vaccination.
UNA advises all members who have been vaccinated but who have not already submitted proof of vaccination to AHS to do so as soon as possible. The sooner AHS receives proof of vaccination the sooner they can plan to ensure patient safety.
AHS and Covenant Health employees can submit proof of immunization through the Got My COVID-19 Immunization Form on AHS Insite or Covenant Health CompassionNet.
The form includes an option for workers to declare the date of their last dose and provide consent for AHS or Covenant Health to validate their immunization status through Netcare or other provincial information repository housing immunization records. They also have the option to submit a copy of their records directly to AHS Workplace Health and Safety or Covenant Health Occupational Health, Safety and Wellness.
AHS announced on August 31 it would implement a policy requiring all employees, contractors, volunteers and others working in its facilities to be fully vaccinated against COVID-19 by October 31.
That means AHS employees must receive the final dose of their vaccine no later than October 16 in order to be considered fully vaccinated by October 31.
AHS says that except where a workplace accommodation has been approved, employees who are not fully vaccinated by October 31 will be placed on an unpaid Leave of Absence.
UNA urges all unvaccinated members not restricted by bona fide grounds for an exemption to arrange to be fully vaccinated as quickly as possible.
UNA will support members with bona fide medical or other protected grounds for not receiving the vaccine.
Vaccines are among the most important ways to reduce the burden currently impacting our health care system and reduce COVID-19 cases.