United Nurses of Alberta recognizes National Day for Truth and Reconciliation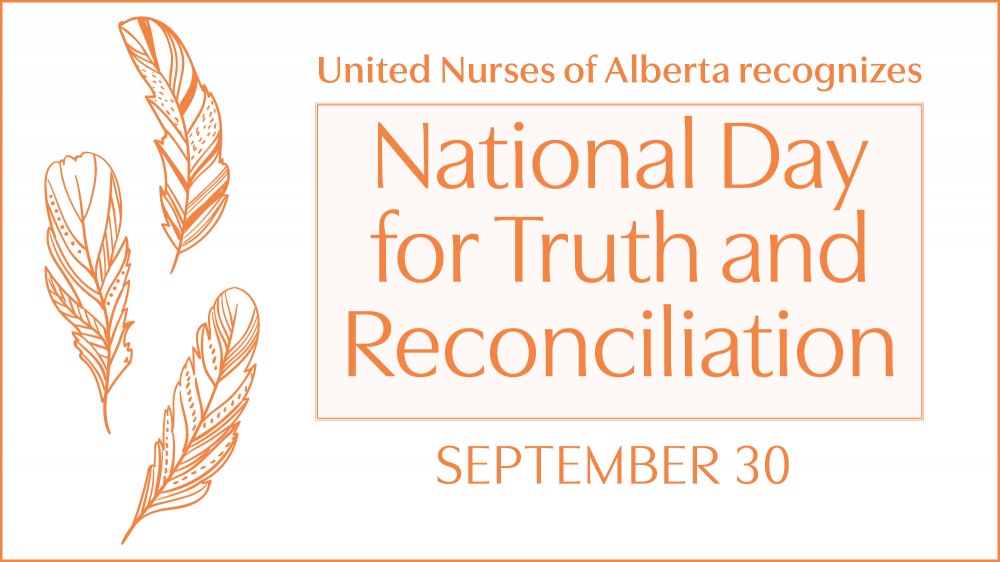 September 30 is the National Day for Truth and Reconciliation.
The day was created to give Canadians a chance to honour the lost children and survivors of residential schools, their families and communities and commemorate the tragic and painful history and ongoing impacts of residential schools.
United Nurses of Alberta encourages its members to take time on Sept. 30 to learn more about Indigenous culture and history, and reflect on the 94 Calls to Action included in the final report of the Truth and Reconciliation Commission.
Sept. 30 is also Orange Shirt Day, a day during which Canadians are invited to wear orange shirts to honour survivors of residential schools, their families, and their communities.
Orange Shirt Day is an Indigenous-led commemorative day honouring the children who survived residential schools and remembering those who did not. This day relates to the experience of Phyllis Webstad on her first day of school, where she arrived dressed in a new orange shirt, which was taken from her.
The orange shirt is now a symbol of the stripping away of culture, freedom and self-esteem experienced by Indigenous children over generations.
UNA is committed to reconciliation with Indigenous peoples in Canada and acknowledges that it requires real action on the part of all Canadians, in addition to symbolic activities such as land acknowledgements.
In June 2017, UNA's Executive Board passed a position statement on Indigenous Health and the Truth and Reconciliation Commission, which stated that UNA recognizes the historical fact that Canada's colonial mission was predicated upon the cultural genocide of Indigenous people.
The Sept. 30 statutory holiday applies to all federal employees and workers in federally regulated workplaces. The Government of Alberta has refused to require the holiday for employees of provincially regulated industries, leaving it up to individual employers to decide.
Despite language in UNA's Provincial Collective Agreement stating that any holiday recognized by the Government of Canada will apply, Alberta Health Services refused to recognize the statutory holiday for its employees, although some long-term care operators have agreed to recognize it. UNA has filed a grievance with the employer in an attempt to resolve this issue.