UNA and AHS agree to continue hold on bargaining until September 1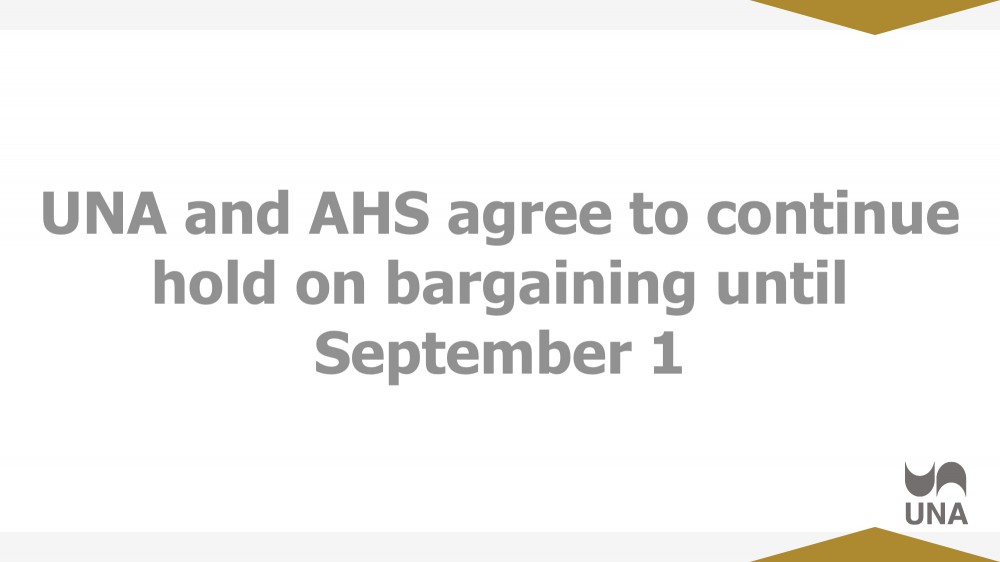 United Nurses of Alberta and Alberta Health Services have agreed to continue the pause on bargaining for a new Direct Nursing Collective Agreement, including the extension of no-layoff provisions, until September 1 while the province's response to COVID-19 continues.
UNA proposed the extension until September 1 on May 12, and Alberta Health Services agreed on May 21. Other employers in the group following, with Covenant Health confirming it had signed on this morning.
On March 17 in response to the circumstances related to COVID-19, UNA and AHS came to the agreement that bargaining between the union and the employer group made up of AHS, Covenant Health, Lamont Health Care Centre, and The Bethany Group (Camrose) for a new agreement scheduled to expire on March 31, 2020, would be suspended up to and including May 31, 2020.
In addition, it was agreed that Letter of Understanding #20, Re: Job Security, which also expired on March 31, would be amended to have an expiry date of May 31, 2020. That LoU guarantees there will be no layoffs of Direct Nursing employees under the agreement represented by UNA until the letter's expiry date.
While the province was slowing beginning what the government has called a "re-launch" of the economy after lockdown in mid-May, the coronavirus pandemic clearly continues to present a major threat to public health.
UNA tabled a comprehensive proposed Memorandum of Agreement addressing all key concerns identified in 2020 bargaining for a new collective agreement during bargaining on February 21, after little progress was made toward a new agreement in January and February. AHS has rejected that proposal.