United Nurses of Alberta President cautions Albertans about UCP privatization talk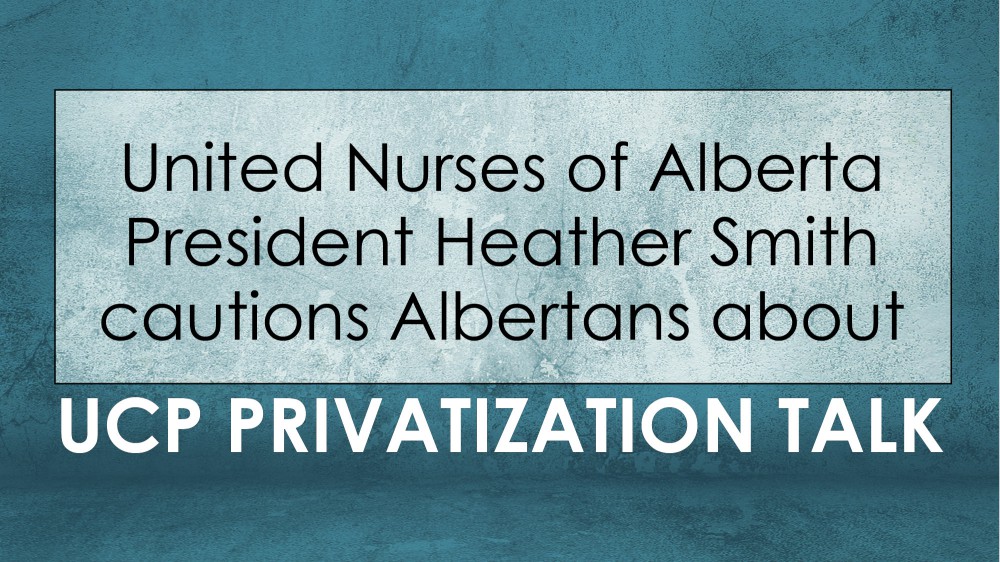 United Nurses of Alberta is extremely concerned by Opposition Leader Jason Kenney's talk of privatizing health care delivery within the public system, which decades of research and experience indicate is likely only to waste money needed for essential public services, UNA President Heather Smith said today.
"Our concern is not just about protecting publicly funded health care, it is about wasting public money on private health care," Smith stated.
Kenney signed what he called a "public health guarantee" this morning in which he said, "if elected … a United Conservative Government will maintain or increase health spending (and) maintain a universally accessible publicly funded health care system."
However, answering reporters' questions, he also indicated he's interested in returning to past experiments with private clinics that deliver public services, Smith noted. And he told reporters his pledge to maintain spending does not account for increases for population or inflation.
Smith said the best way to ensure delivery of high quality and equitable health care services is to properly fund the health care system, not to rush into ideologically based experiments with privatization that often fail and provide no accountability for how the government spends money.
In Alberta, we have already tried allowing private surgical clinics to bid into the public system and the result was Albertans ended holding the bag when the surgical corporation went bankrupt, Smith said. Not including additional funds in the face of inflation and population growth results would in effect be a funding cut for health care, she said.
She observed that if Mr. Kenney's "Grassroots Guarantee" to his own party's members is any guide, the United Conservative Party leader's promises should be treated with a grain of salt by Albertans.
UNA contacted Mr. Kenney soon after his call in mid-November for public sector unions "to sit down with us and figure out how we can deliver public services more efficiently and not be afraid of choice and competition in doing so" and invited him to a meeting. Since then, UNA has attempted repeatedly to arrange a meeting with the UCP leader, but beyond receiving an email stating he would like to meet sometime, his staff has not committed to a date or further responded.
-30-