Canadians identify major gaps in long-term care: national survey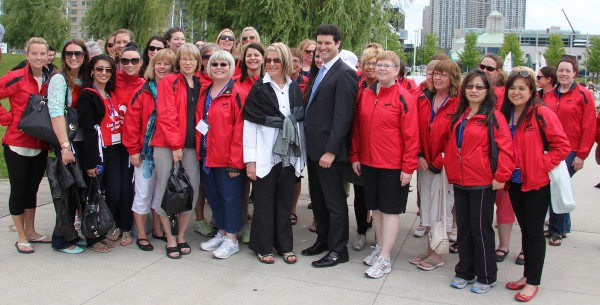 Media release from the Canadian Federation of Nurses Unions:
Canadians identify major gaps in long-term care: national survey
TORONTO
Canadians have identified two major gaps in long-term care as key problems with the country's health care system, a nationwide survey commissioned by the Canadian Federation of Nurses Unions indicates.
The national poll conducted by Praxis Analytics in May 2013 showed Canadians were particularly concerned by what they perceived as a shortage of long-term care spaces and lack of qualified staff working in long-term care settings.
However, CFNU President Linda Silas said policy makers need to ensure they don't try to address these gaps by making corresponding cuts to acute care services in Canadian health care facilities.
"Laying off nurses and other medical professionals in hospitals will not fix the problems in long-term care," Silas said. "That would be like robbing Peter to pay Paul!"
The survey of 934 Canadians found that only 56.4 per cent of respondents who had a close relative use long-term care in the past 12 months rated the experience positively, substantially lower than the 72.6-per-cent who gave health care in general a positive rating.
"Canada's long-term care system is too complex and care providers and families are expected to do too much with too little," Silas said. "Canada urgently needs a focused and coordinated effort to find solutions to address the growing gaps in quality and availability of home care and long-term care across the country."
A large majority of respondents identified shortages in the availability of both home care (77.6 per cent) and long-term care services (78.5 per cent) as major problems facing health care in Canada.
In addition, close to two thirds of respondents believed there is currently insufficient qualified staff available in both home care (68.4 per cent) and long-term care (63.7 per cent) settings.
An overwhelming 77.6 per cent of respondents identified a strong preference for home care over institutional care.
"The public is telling us we need to look outside the facility setting and do more to support people in receiving the care they need and deserve in their homes," Silas said.
The highest rating in the survey, 96 per cent, was given to the importance of having a qualified nurse on duty.
"The public also clearly recognize what having access to qualified nursing staff at all times means to the quality of care they receive," she added. "Achieving appropriate nurse staffing levels must be central to long-term care reform as this is critical to improving resident safety. "
What is needed is a national strategy on aging that includes sufficient funding for community care without depriving the acute care sector.
The survey, which ran from May 6 to May 17, 2013, has a margin of error of plus or minus 3.21 per cent at the 95 per cent confidence level.
CFNU represents close to 200,000 nurses and student nurses. Members work in hospitals, long-term care facilities, community health care, and our homes. CFNU speaks to all levels of government, other health care stakeholders and the public about evidence-based policy options to improve patient care, working conditions and our public health care system.
30