UNA stands in support of Ontario education workers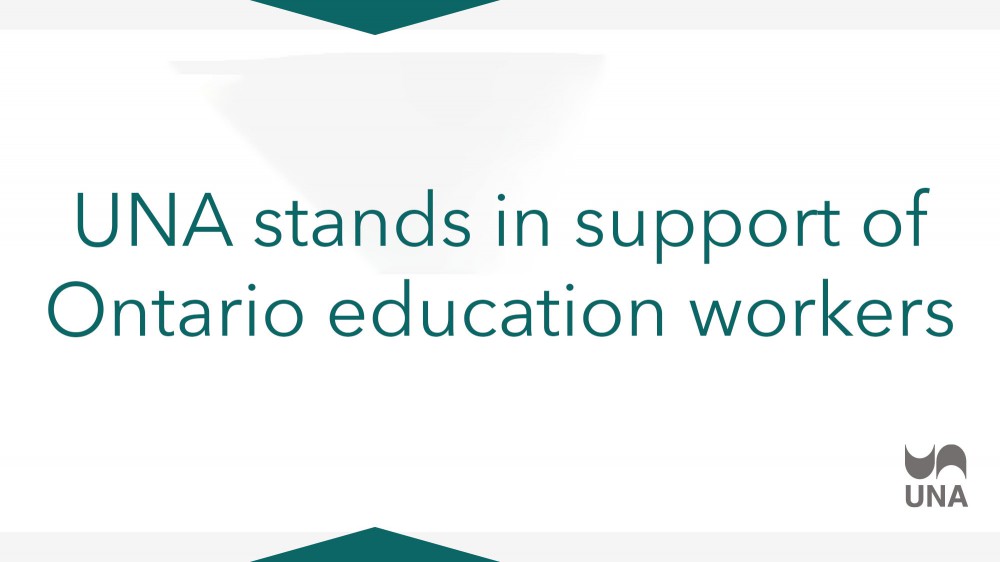 United Nurses of Alberta stands in solidarity with the 55,000 education workers who face an effort by Ontario's Conservative government to use the Notwithstanding Clause of the Canadian Charter of Rights and Freedoms to strip them of their right to strike and bargain collectively.
The members of the Canadian Union of Public Employees targeted by Ontario Premier Doug Ford's government are among the lowest paid workers in the province's educational system, undervalued, overworked, and primarily women. They are not deemed essential workers by the province.
"Instead of recognizing the value of their work and allowing the collective bargaining system that is protected by Canada's constitution to let them reach an agreement, the Ford Government is trying to preemptively impose a contract in a way that overrides their ability to mount a legal challenge," said UNA President Heather Smith.
"This is outrageous and fundamentally un-Canadian," she said.
CUPE's national president, Mark Hancock, called this "an appalling display of contempt for workers' rights, for the collective bargaining process, and for the workers who look after our kids and keep our schools running."
CUPE has warned the 55,000 workers will walk off the job on Friday in defiance of the government's legislation and other unions may stage a province-wide demonstration of support the same day – and possibly further action.