UNA president seeks meeting with AHS leaders to discuss employer's attendance management plans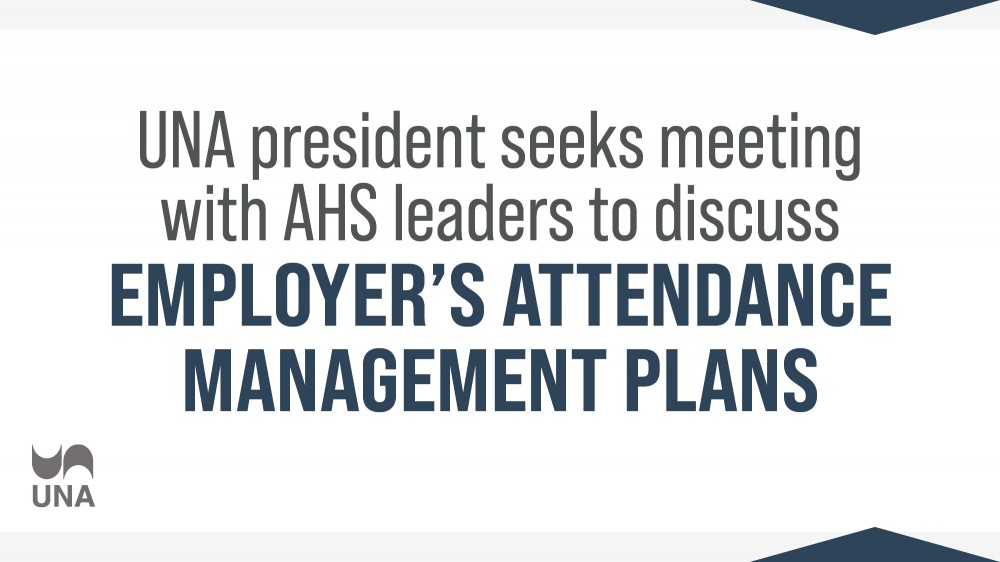 Hearing increased discussion of the use of attendance management by Alberta Health Services, United Nurses of Alberta President Heather Smith has written senior managers of the health authority seeking a meeting to discuss their plans.
While UNA understands that AHS is facing significant human resources challenges, "health care workers in general and Registered Nurses and Registered Psychiatric Nurses in particular, face unprecedented levels of health concerns," Smith wrote in the letter to AHS Executive Director of Negotiations and Labour Relations Lee McEwan, Labour Relations Director Krystie Watson-Boyd, Abilities Management Director Lindsey Simpson, and Employee Benefits and Retirements Program Director Gayle Shurvell.
"Employees are requesting to reduce their hours of work, transfer positions, change employment status to part time and casual, take vacation and use special leave," she said. "Often these requests are thwarted by employer decisions to deny requests, mandate overtime, or redeploy or float staff back to the unit they attempted to leave.
"In the absence of these options, sick leave is their last resort," she said, arguing that programs that pressure employees to report to work when they should be taking time off will be counterproductive if they push employees to the breaking point.
"It is our conclusion that implementing an attendance management program at this time will place our members' health at risk," Smith wrote.
Such a move will be interpreted as disregard for employee health and will undermine employer efforts to address employee health and wellness, she warned, urging AHS to consider a respectful approach to attendance.
To read the full letter, click the link at right.