PRC process helps resolve difficult situation at Wetaskiwin Hospital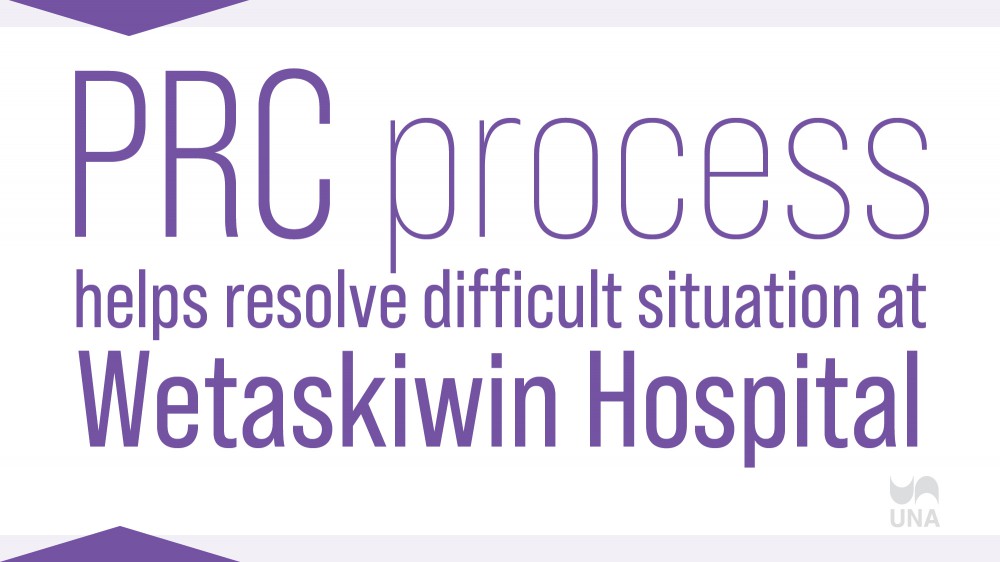 Investigations into serious adverse health events in many countries reveal that clinical health professionals who attempt to speak up about hazards and harm face negative consequences including being labelled a "trouble-maker;" marginalization, intimidation, bullying, discipline up to and including dismissal, and personal and mental health consequences.
In Alberta, despite the legal protection provided by the Professional Responsibility language in UNA's collective agreements, nurses working in the Wetaskiwin Hospital endured a culture of intimidation and fear over a period of years.
Former Local President Randi Lynn Schmidt did her best to support colleagues as she heard from nurses, many of whom were making plans to leave. Many hesitated to report PRCs because they witnessed retaliation against those who did. PRC Committee meetings were often unpleasant as nurses who presented safety concerns faced implications they were inadequate.
Employer representatives responded with statements like, "well that's just not going to happen," preventing meaningful discussion of patient safety and staffing concerns. At Step 2 of the PRC process, nurses were often discouraged from documenting patient safety concerns.
Many PRC best practices were also not followed. For example, management responses were not regularly provided to the committee and the PRC tracking sheet was not properly maintained, leading to confusion and disagreement about the status of unresolved PRCs.
While planning her own move to another province, Schmidt recruited other UNA members to learn about the PRC process and to take leadership roles in the Local.
With support from UNA's PRC Advisor, Local PRC Committee members advocated for a joint union-management education session. This prompted changes in management behaviour and record keeping at the Committee.
With the support of LRO Duane McEwan, more than 70 nurses documented what had happened to them personally and what they had witnessed over several months. These were presented to Senior Zone Management and a Trauma-Informed Investigation was conducted. The Senior Zone Officer met with those who had documented concerns and acknowledged management behaviour the nurses had described violated AHS values.
The employer agreed to address the following themes:
Preferential treatment for friends in hiring practices

Bullying, harassment and disrespectful comments during PRC meetings

Adherence to the precautionary principle in PPE use

Examination of staff transfers and turnover rates

Staff involvement in decision making

Improved orientation practices for new employees
Over the past several months, a clearer picture of unresolved PRC issues has emerged.
New Local President Heather Murray wrote to members encouraging them to keep documenting PRC concerns and workplace issues. "You have made a difference in your statements," she told them. "We still have a chance to create a better environment for those still taking care of our community members."
This story is not over. Some patient safety issues at the site may need to be escalated and significant improvements in the workplace culture are still needed.
But with support from UNA staff and by working together, nurses at Wetaskiwin have learned that fear can be replaced by confidence as they continue to advocate for patient safety and their right to a respectful and safe workplace.
Learn more about UNA's Professional Responsibility Concern process.