UNA responds to AHS and Covenant Health changes to mandatory immunization policy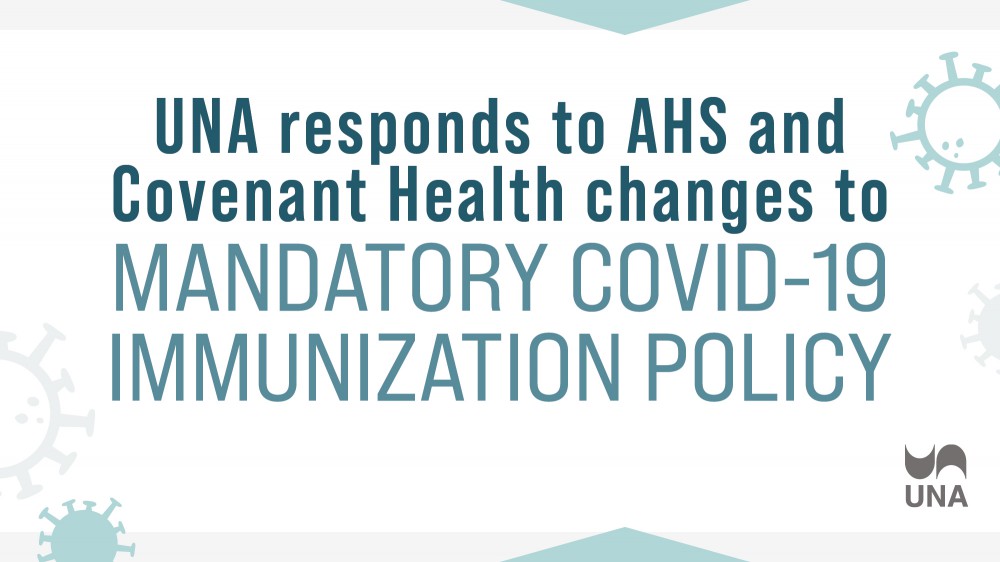 Alberta Health Services and Covenant Health have announced changes to the mandatory COVID-19 immunization policy.
Beginning on Dec. 13, employees at some worksites will not be required to be vaccinated for COVID-19 provided they are regularly tested for the virus. The list of worksites has not been released.
Based on United Nurses of Alberta's research and two separate legal opinions, we believed the previous mandatory immunization policy implemented by AHS and Covenant Health was reasonable and appropriate.
UNA is concerned about the inconsistancy of a policy change that would require mandatory immunizations of members at some worksites but not at others.
UNA is reviewing the changes to determine if it is appropriate and whether it should be challenged through the grievance process.
We will share any updates when our investigation is complete.
UNA continues to urge all unvaccinated members not restricted by bona fide grounds for an exemption to arrange to be fully vaccinated as quickly as possible.
COVID-19 immunization appointments can be booked through ahs.ca/vaccine. Appointments can also be booked through the Government of Alberta's Vaccine Booking System.
UNA will support members with bona fide medical or other protected grounds for not receiving the vaccine.
Vaccines are among the most important ways to reduce the burden currently impacting our health care system and reduce COVID-19 cases.