UNA kicked off the 2021 AGM Wednesday with reports from President Heather Smith and Labour Relations Director David Harrigan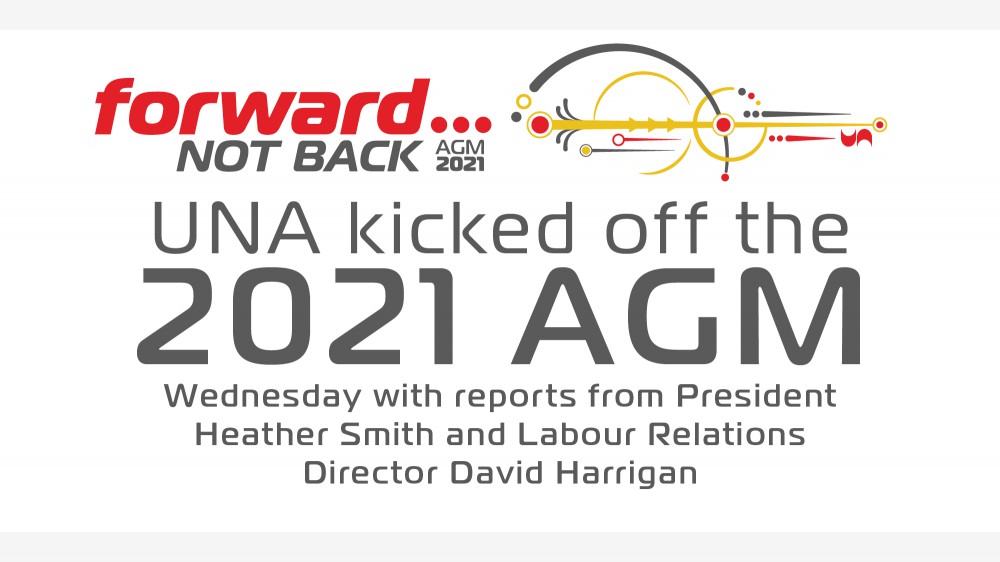 Close to 700 members, observers and staff were online Wednesday morning for the opening of United Nurses of Alberta's two-day virtual annual general meeting.
First Vice-President Danielle Larivee opened the meeting in the absence of Heather Smith, who participated from home out of an excess of caution because she was experiencing cold symptoms.
In her welcoming remarks, Smith acknowledged to delegates online the strangeness of holding a virtual annual meeting at a time when COVID-19 dominates everything.
"No chanting, no singing, no dancing, unless you're doing it at home alone," she observed wryly. "But this is 2021 and we have no choice. COVID 19 dominates everything in our lives, our work, and our families."
Smith thanked UNA's members, staff, and bargaining committees for the way they shut down the office virtually overnight and transitioned to working from home when the pandemic arrived in 2020, while continuing to make progress in negotiations.
"I thank all of our local leaders, local executives, committee members, ward and office reps," she said. "It has been an incredibly difficult time. You have heard first-hand the fear and anger members have experienced. … You have my heartfelt appreciation of your contributions and the load you have shouldered on behalf of your colleagues."
"Since our last meeting, when we elected two Executive Officers, it was four short months until the world changed," Smith remembered. "We had our Provincial Demand Setting Meeting. Then AHS announced their intent to eliminate 500 FTE, 750 jobs.
"In January 2020, the Employers came to the provincial bargaining table with 'unprecedented' rollbacks that would decimate language and compensation, hard won over decades," she said. "We bargained a bit in January, February and on our final meeting on March 11th we agreed to adjourn negotiations until June 1, 2020 'in light of the pandemic.'
"And then COVID arrived for real," Smith said, remembering how Friday, March 13, 2020, was the last day of normal operations in UNA's Edmonton and Calgary offices. "The transition to the virtual world for all of the work and services provided by our staff across our organization was phenomenal."
"I am extremely proud and truly thankful to all of you for the extraordinary work you have done," she said.
"After many months the anguish, exhaustion – physical and psychological – moral fatigue, fear, betrayal, anger and loss have extracted a horrific toll on our members, our profession and our society," Smith concluded. "Even when COVID … no longer permeates our daily lives, the recovery will be long, and it is not going to be easy.
"But we are fortunate to have each other. We will go forward not back!"
Labour Relations Report
In his report, UNA Labour Relations Director David Harrigan told the delegates their union's recent experience bargaining for a new Provincial General Agreement shows that by sticking together Alberta's nurses can make progress in negotiations even though the Kenney Government started things in 2020 by instructing Alberta Health Services to seek large pay cuts and many rollbacks in contract language.
The new proposal tabled by AHS on September 7 represented significant progress in negotiations even though it still included several serious rollbacks, including a proposal that would amount to an immediate 2-per-cent pay cut for UNA members and another that would take away important scheduling protections for nurses.
But this was far from the government's original position, brought to the table by AHS, Harrigan said.
UNA has always had channels of communication with Alberta governments during negotiations, he said, noting this was true with premiers Ralph Klein, Ed Stelmach, Alison Redford, Jim Prentice and Rachel Notley. However, he said, Premier Jason Kenney's United Conservative Government barely acknowledges the existence of UNA.
"We don't really have any relationship with this government," he said. "This government does not acknowledge that UNA exists. They don't acknowledge it, but they're aware that we exist.
"They don't like us, they don't like you, they don't like public sector employees, and they don't like the fact that employees can form unions," he said.
Nevertheless, Harrigan continued, the government in its directions to AHS clearly recognized that UNA meant business in August when the union accepted AHS's essential services proposals and asked the Labour Relations Board to appoint a mediator.
"They did blink, and they can back down," he said. "They did it because they know nurses are able to stick together."
The parties are now in mediation and Harrigan said he is hopeful that reaching a new collective agreement will not require job action.
Addressing the implications for members and their union of the mandatory vaccine requirement implemented by Alberta Health Services in late August, Harrigan noted that "although the government did not want to be seen making that order, they did in fact make the order.
"There is no ability for us to change that," he said, adding that UNA and other unions sought legal opinions that show there is no chance of success appealing the policy.
It is likely some members who have sought exemption from the vaccine requirement from AHS on religious or medical grounds will be denied, he said. "If you have a bona fide religious reason why you can't be vaccinated, they have to accommodate you," Harrigan explained. "But it has to be a bona fide religious belief."
In each case that an exemption is denied, he said, "we're going to have to look to see whether we have a case." The union will do its best to represent its members in such circumstances.