AHS proposal would still include wage cut for Alberta nurses; union concerned by minister's misleading statement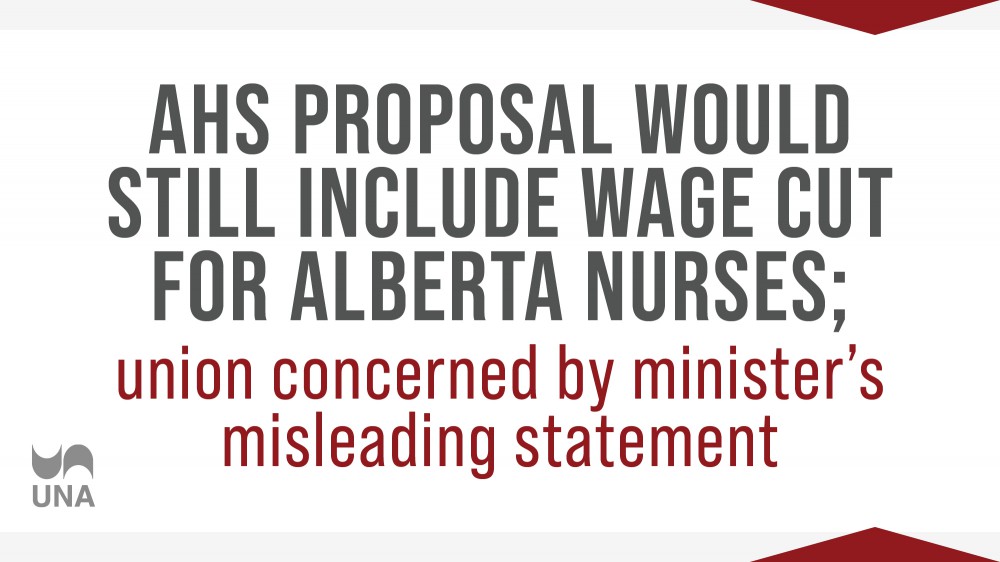 For immediate release, Wednesday, September 8, 2021
Finance Minister Travis Toews's statement on Alberta Health Services' negotiations this morning fails to acknowledge the critical need to address the lack of measures to encourage recruitment and retention of nurses.
Efforts by AHS and the government to roll back nurses' wages and eliminate important protections in their collective agreement are contributing to the ongoing crisis in the province's health care facilities made worse by a shortage of nurses that has forced employers to rely on expensive staffing agencies to keep health care facilities operating.
The new proposal to UNA's bargaining committee from AHS yesterday did represent progress in negotiations for a new collective agreement with UNA, but it still includes several serious rollbacks, including a proposal that would amount to an immediate 2-per-cent pay cut for UNA members and another that would take away important scheduling protections for nurses.
So the finance minister's statement this morning is not accurate when it says the five-year contract proposed by AHS includes "a wage freeze for first three years and a modest increase in the fourth and fifth years of the mandate."
In fact, the AHS proposal would immediately reduce nurse compensation by 2 per cent through the elimination of lump-sum payments and then add 1 per cent in each of the final two years proposed by the employer.
"This is not the first time Minister Toews has mischaracterized what is happening at the bargaining table in the negotiations between UNA and AHS," said David Harrigan, UNA Director of Labour Relations. "UNA would be happy to meet with the minister and have written requesting such a meeting. A meeting would go a long way in preventing further damaging statements by the minister."
UNA was pleased that the new employer bargaining position dropped several offensive proposals, but will continue our effort in negotiations to reach an agreement that will address the critical problem of attrition and retention now faced by AHS in every part of the province, Harrigan said.
Continuing efforts to roll back nurses' pay and eliminate scheduling protections for nurses in a period when the system is under stress and health care workers are suffering from burnout and exhaustion will not help AHS solve its staffing problems and would likely make the current situation worse, considering the growing national and international nursing shortage.
UNA expects to meet with the mediator on Friday and looks forward to his assistance resolving these outstanding issues in ways that are fair to UNA members and will help the health system ease the impact of the crisis it is currently experiencing.