UNA members now eligible for three hours paid leave for COVID-19 vaccinations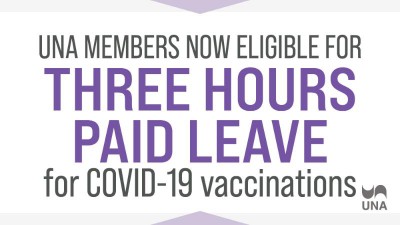 United Nurses of Alberta applauds the Legislative Assembly for swiftly passing amendments to the Employment Standards Code that allow workers, including nurses, up to three hours of paid leave to receive their COVID-19 vaccination.
The passage of Bill 71:Employment Standards (COVID Vaccination Leave) Amendment Act, 2021 follows weeks of Alberta Health Services putting needless barriers in the way of nurses getting vaccinated. Despite clear language in the collective agreement stating that medical appointments are to be without loss of pay, AHS refused to extend this to COVID-19 vaccinations.
"After weeks of AHS putting the health, safety and lives of Albertans at risk by placing barriers to having health care workers vaccinated, nurses no longer have to take a financial hit or use their vacation time to get vaccinated," said David Harrigan, UNA's Director of Labour Relations.
AHS began placing obstacles in the way of nurses getting their COVID-19 vaccinations shortly after UNA declined to agree to the employer's request to once again delay bargaining for a new collective agreement.
"Access to vaccinations during a global pandemic shouldn't be used as a labour relations tactic," said Harrigan. "Alberta's nurses are on the frontlines of the COVID-19 pandemic and the employer should be supporting them in every way they can, not playing games."
After UNA filed a grievance in response to AHS's actions, the opposition NDP raised the issue in Legislative Assembly and, soon after, the government introduced the Bill 71, which received the unanimous support of MLAs in the Legislative Assembly.
As AHS had previously distributed memos to employees indicating that UNA members would not be entitled for paid time off for COVID-19 vaccinations, UNA has asked AHS to confirm that it will be changing their practice to comply with the law and sending an updated memo to employees indicating same.
All full-time, part-time and casual employees are eligible for the paid leave.