Update: Critical Worker Benefit for UNA members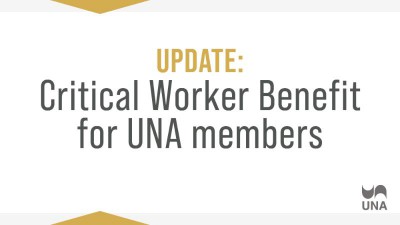 Alberta Health Services and Covenant Health have provided United Nurses of Alberta with updated information about payments and employee eligibility for the Critical Worker Benefit:
Payments are going forward for all unionized employees who meet criteria set by government (a minimum of 300 paid hours, excluding overtime, with a single employer during the period of Oct. 12, 2020 to Jan. 31, 2021). The employer is working as quickly as possible to issue the payment and will share timelines as soon as they are finalized.

The employer is required to validate the list of eligible employees with Government of Alberta to ensure there are no duplicate employees for individuals who meet the criteria with multiple employers. This will require the employer to share personal information with the Alberta government. The employer is establishing an opt-out process for employees who do not want their information shared. This will mean that the employee won't receive payment.

Employees who meet the hours requirement and are eligible for payment will receive an email directly from HR Shared Services.

Ineligible unionized staff will also receive an email to indicate they did not meet the hour requirement and to contact the HR Contact Centre if they have concerns.
AHS and Covenant Health will inform UNA when they have firm dates for payment and other related updates.
If you have any questions or concerns, please contact your UNA Local Executive or Labour Relations Officer at 1‑800‑252‑9394.