UNA members encouraged to complete Facilities-Based Continuing Care Review survey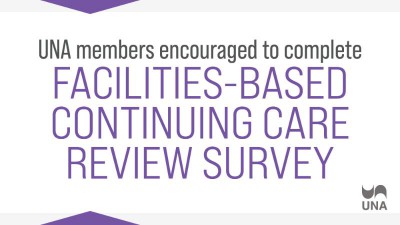 United Nurses of Alberta members are encouraged to complete the Facilities-Based Continuing Care Review survey.
The online survey is being conducted by MNP on behalf of the Alberta goverrnment, which launched the review of the Continuing Care system in Feb. 2020. The deadline to complete the survey is Jan. 29, 2021.
Multiple versions of the survey are posted on the MNP site, each designed with different audiences in mind. There are surveys for Public, for Staff, for Residents or Family Caregivers, for Facility Administrators and Managers, and for Organizations Involved in Advocacy around Continuing Care. The table below provides you with the links to the various survey versions and a more detailed description of the intended audience for each version.
While many of the core questions remain the same across the different survey versions, some versions omit a number of questions. For instance, the survey designed for Facility Administrators and Managers includes the greatest number of questions and is the only survey to ask whether the current systems for monitoring quality of health care services and accommodations services are effective or can be improved.
We urge you and those around you to consider completing as many of the surveys as are applicable to your situation. For example, you may be a nurse working in continuing care and qualify to respond to the Nursing Staff Survey, but you may also be a family member or close friend of a current resident in long-term care or designated supportive living and qualify to respond to the Resident/Caregiver Survey.
Please consider completing the appropriate survey or surveys. There are plenty of questions which allow for open-ended responses and there is a final question where you can provide input on any topic of interest or concern to you.
UNA has prepared a background document with additional information about the survey and Continuing Care in Alberta.
Survey Name & Link

Intended audience

Those who have not had involvement in the past six months with long-term care) or designated supportive living (whether as a resident, caregiver, staff or administrator, or as part of an association affiliated with facility-based care

Current residents in long-term care or designated supportive living.

A family member or close friend of a current resident in long-term care or designated supportive living.

A family member or close friend of somone who resided in long-term care or designated supportive living within the last six months.

Staff Member Surveys

Links to other
staff surveys:

Healthcare workers currently working in long-term care or in a designated supportive living setting.

These surveys group staff in to four broad categories: HCAs; Nurses (RNs and LPNs); Allied Health Professionals; and General Staff. HCAs and Nursing Staff Surveys include are more specific questions about residents' daily quality of life.

Note to RPNs:

Unfortunately, the Nursing Staff Survey does not explicitly list RPNs as an option. If you click on "other" and write in your occupation you are redirected to select another survey. Therefore for the purposes of this survey if your assignment consists of regular placement on a unit and you are familiar with the day-to-day life of residents on the unit/ in the facilitiy, it might be most appropriate for RPNs to fill in the Nursing Staff Survey. If as an RPN you are not that familiar with the day-to-day life of residents it may be more appropriate to take the Allied Health Staff Survey and report your occupation as 'other."

CEOs, Directors and all levels of Managers (including Directors of Care) working in long-term care or a designated supportive living setting
Continuing Care advocates, and advocacy organizations including associations, societies, unions, professional colleges, accreditation bodies etc. affiliated with long-term care or a designated supportive living setting