United Nurses of Alberta 'entirely rejects' premise of so-called 'restoring balance' labour law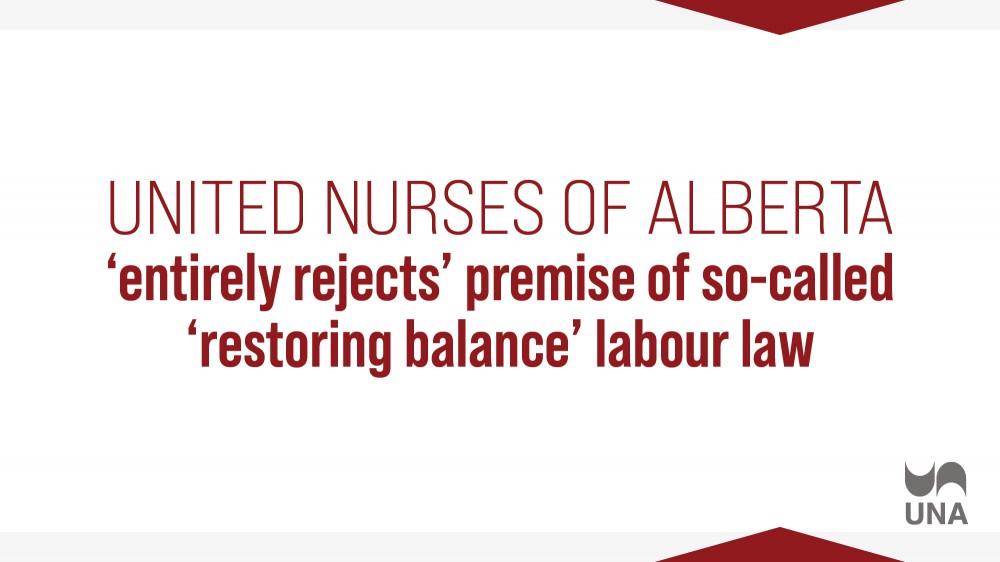 United Nurses of Alberta entirely rejects the premise of the so-called Restoring Balance in Alberta's Workplaces Act, says the union's formal response to the provincial government's call for union comments on draft regulations based on provisions in the legislation concerning union dues and financial statements.
The act, often referred to as Bill 32, needlessly duplicates UNA's established democratic decision-making and financial disclosure processes and attempts to create a false dichotomy between core and non-core union functions, UNA's response says.
The law, which was passed by the Legislature on July 28 and received Royal Assent the next day, "does the opposite of working towards 'restoring balance' in workplaces and is unconstitutional," says the submission, which was delivered to the government earlier today.
"As such, we urge the Government of Alberta to repeal the Act and avoid the costly and protracted legal battles that will surely follow should it be enacted," it says.
In UNA's view, the act is an attempt to use red tape to duplicate and undermine well-established and respected democratic mechanisms for UNA members to determine the amount of dues they pay as well as how dues revenue is spent. "The cumbersome requirement outlined in the Act for each member to accept or subsequently revoke a certain amount of dues destined for causes that have been arbitrarily selected in the Act is redundant."
UNA also rejects the premise of the legislation on the grounds it is clearly unconstitutional. "Accordingly, UNA will not undermine its members' interests nor substantiate the premise of the Act by providing feedback into regulations for an unconstitutional piece of legislation aimed at limiting our ability to represent our members," the submission says.
The Canadian Nurses Association Code of Ethics calls for nurses to maintain an awareness of major health concerns, such as poverty, inadequate shelter, food insecurity and violence, while working for social justice (individually and with others) and advocating for laws, policies and procedures that bring about equity.
This professional responsibility was reinforced by a recent decision by the Saskatchewan Court of Appeal in Strom v. Saskatchewan Registered Nurses' Association, 2020, found that criticism of the healthcare system — especially by those delivering the services — is manifestly in the public interest and can enhance confidence by demonstrating that those with the greatest knowledge are both prepared and permitted to speak.
"We will not be silenced."
Labour Minister Jason Copping requested the submissions from unions on November 20, timing that suggests the government was more interested in the appearance it is consulting unions than genuine consultation.
The government claims in its propaganda about the legislation that it will reduce red tape, when the opposite is clearly the effect, and that it will somehow help keep more Albertans employed.