UNA Locals report PRC successes in 2020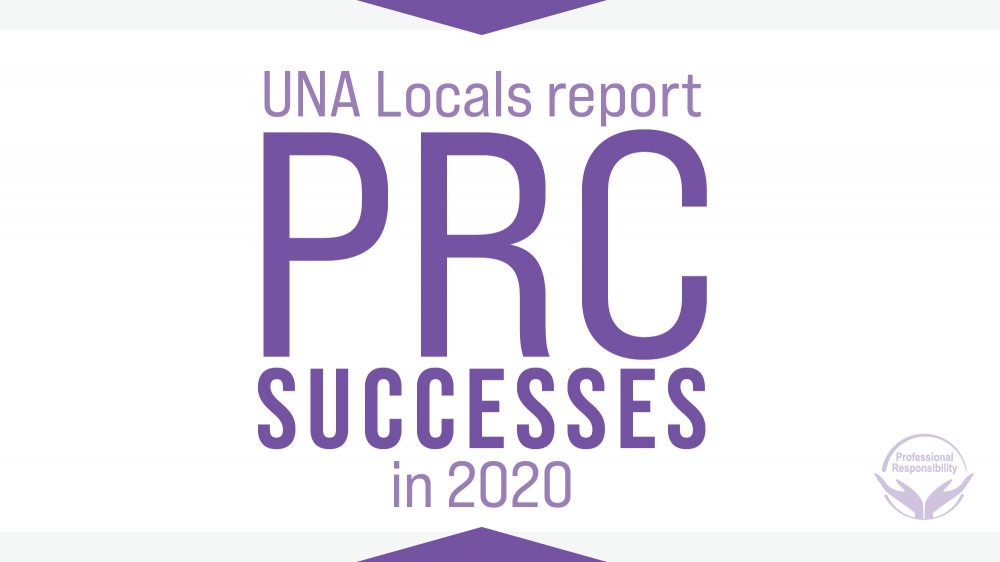 United Nurses of Alberta Locals have reported several significant successes through the Professional Responsibility Concern (PRC) Process.
LOCAL 313: Safe staffing, strong staff orientations promote patient safety
UNA Local 313, Strathmore District Health Services at the Valley General Site, resolved more than 50 PRCs encompassing safe staffing, increased workload, and improved orientation opportunities at the Strathmore District Health Services Emergency Department and Acute Care area.
Assisted by Professional Responsibility Advisor Josh Bergman and Labour Relations Officer Laura Bowen, Local 313's PRC Committee used Article 36 of the Collective Agreement to achieve the resolutions by advancing their concerns to the CEO designate. They included:
A new contract-compliant rotation, developed by the Local, that allows for an additional RN on night shift and charge RN coverage Monday through Friday in the facility's Acute Care area.
Joint recognition that the Employer may assign work throughout the site only if the staff is appropriately oriented and trained.
A site-wide plan for training and orientation to ensure ongoing competency is maintained and front-line staff input is included.
Disallowing use of minor treatment spaces adjacent to the ER for temporary admission, particularly overnight stays, while patients wait for a bed in acute care.
Engaging other staff, AHS teams, and community partners to address patient flow from admission, transition and discharge planning.
The Local continues to advocate for safe patient care in their community as they work through an additional 33 open PRCs.
LOCAL 211: One PRC can be paramount in safeguarding best practice
Local 211, Calgary Community, success- fully upheld best practice for the treatment of anaphylaxis.
In September 2019, the Local received a PRC that members were being advised they would act as intermediaries between a physician and an immunizer in obtain- ing an order for the administration of epinephrine in the event of anaphylaxis episodes. Recognizing this was not aligned with current professional best practice, Local 211's PRC Committee advanced this concern to the Senior Leader step in the AHS-UNA Collective Agreement in October 2019.
On May 1, 2020, CARNA introduced an exception to RN Prescribing of Schedule 1 drugs, including epinephrine, in specific circumstances with certain criteria, for anaphylaxis using an appropriate clinical support tool.
As a result of this PRC, a provincial process was instituted that capitalized on CARNA's exemption in the RN prescribing requirements and standards.
On September 14, AHS introduced a practice change giving all RNs the ability to prescribe and administer intramuscular epinephrine for suspected anaphylaxis when a physician or nurse practitioner is not immediately available. Each applicable clinical practice setting is currently in the process of reviewing and implementing this change.
LOCAL 91: Promoting safe staffing ratios
Local 91 members at the Bethany Care Centre in Calgary used the PRC pro- cess to effectively advocate for safe nurse-to-resident staffing ratios in their workplace.
Earlier this year, members filed PRCs highlighting risks to resident safety
tied to increased workloads. This was particularly evident on shifts where the proportion of professional nursing staff was lower. PRCs also identified need for better cell phone reception to complete daily administrative and nursing duties.
Prior to the pandemic, the Employer introduced a new staffing model. Using the PRC process with the assistance of Professional Responsibility Advisors Danusia Moreau and Joshua Bergman and LRO Dwayne MacKinnon, Local 91 advanced these PRCs from the PRC Committee, to senior leadership, to the COO.
Despite several COVID-19 outbreaks, Local 91 arranged regularly monthly PRC meetings, and submitted an information request to the Employer to address their concerns. The Local was successful in resolving all PRCs by having the Employer supply cell phones to the facility to improve coverage, as well as following UNA's recommended nurse-to-resident staffing ratios for several months.