Manitoba Nurses Union signs agreement for significant top-ups for nurses working on COVID-19 units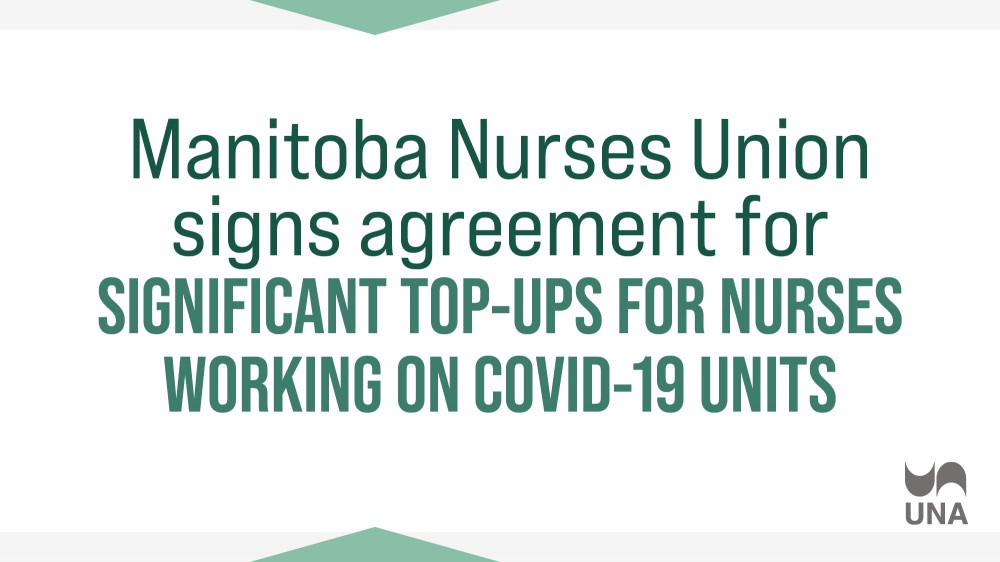 The Manitoba Nurses Union and its employer group have signed a new Memorandum of Agreement on pandemic responsiveness that includes top-ups of $5 to $6 per hour including overtime for nurses working on or redeployed to intensive care units or units designated to be in a COVID-19 outbreak.
The MOA signed on December 1 after several weeks of intensive negotiations addresses redeployment, shift disruptions and more, MNU President Darlene Jackson said in a communication to members.
"As the pressure on our health care system increases, and given the extraordinarily difficult circumstances many nurses are facing, MNU sought to reach an agreement for our members that would provide as much certainty and security as possible, along with some much-needed recognition," she told her union's members.
"This new MOA builds on previously negotiated MOAs, addresses a number of outstanding issues related to equity and eligibility, and enhances the premiums extended to nurses working in areas of critical need, who have had their schedules disrupted, or who have been redeployed," Jackson said.
Highlights of the new MOA include:
Nurses working in or redeployed to a designated inpatient COVID unit, a unit with 50 per cent or more COVID patients, a unit designated as in outbreak, or an ICU they will be provided with an hourly top up of $5 or $6 per hour, including overtime
An hourly premium of $6 per hour, including overtime, will be provided to all nurses working in publicly controlled personal care home facilities
Changes to nurses' schedules including adjustments to shift start and end times that are greater than one hour, changes to days assigned, changes to shift lengths or shift patterns will receive a premium that ranges from $25 to $50 per affected shift, depending on the extend of the change
Nurses redeployed above the 53rd Parallel will receive a Northern Redeployment Allowance of $500 per bi-weekly pay period for working the minimum equivalent of full-time hours, or $250 for working the minimum of half of the equivalent of full-time hours
Nurses who are redeployed will receive a travel allowance of $180 for each day worked, reimbursement of travel expenses, and travel time paid at the nurse's regular crate of pay
The agreement and its special premiums are retroactive to November 1, 2020, and most provisions will continue until the end of the pandemic.
Meanwhile, in Alberta, data obtained by the New Democratic Party show that the Alberta government is leaving federal money to support the province's front-line health care workers unused.
The provincial government has left at least $300 million on the table that could be used to pay top-up wages to health-care workers, correctional officers, first responders and other essential workers on the front lines of the COVID-19 pandemic.