UNA and CFNU presidents urge Health Minister Tyler Shandro to update COVID-19 guidance to health care workers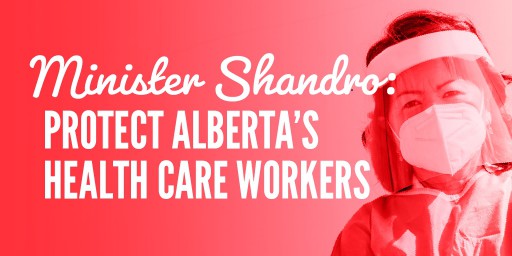 Alberta must update its guidance to health care workers to respond to the developing scientific understanding of how COVID-19 is transmitted.
In a letter sent to Alberta Health Minister Tyler Shandro on December 2, the presidents of United Nurses of Alberta and the Canadian Federation of Nurses Unions noted that scientists at the Public Health Agency of Canada have now confirmed one of the main routes of transmission of COVID-19 is through close-range aerosol transmission.
"This is a particular risk in the absence of adequate ventilation measures in enclosed spaces with infected individuals because potentially infectious aerosol particles can be 'suspended in the air' and build in concentration over time, wrote Heather Smith and Linda Silas.
The science now shows that the risk is present even when complex aerosol-generating medical procedures (AGPM) are not taking place, they noted.
"With the risk of non-AGMP aerosol transmission established, health care workers must be provided with respiratory protection (fit-tested N95s) when caring for presumed or confirmed cases of COVID-19," the letter states.
"Federal and provincial guidance must be immediately updated to reflect this change," it continued, noting that federal and Alberta guidance documents have not been changed more than a month after PHAC updated the evidence.
"Minister, you have the power to make a difference," the letter says. "We ask for your urgent intervention to ensure the update of the health care worker guidance to protect workers and reflect the latest science."
Similar letters have been sent to other Canadian health ministers by the CFNU and provincial nurses' unions.
30