Doctors, health care unions including UNA, call for 'circuit-breaker' lockdown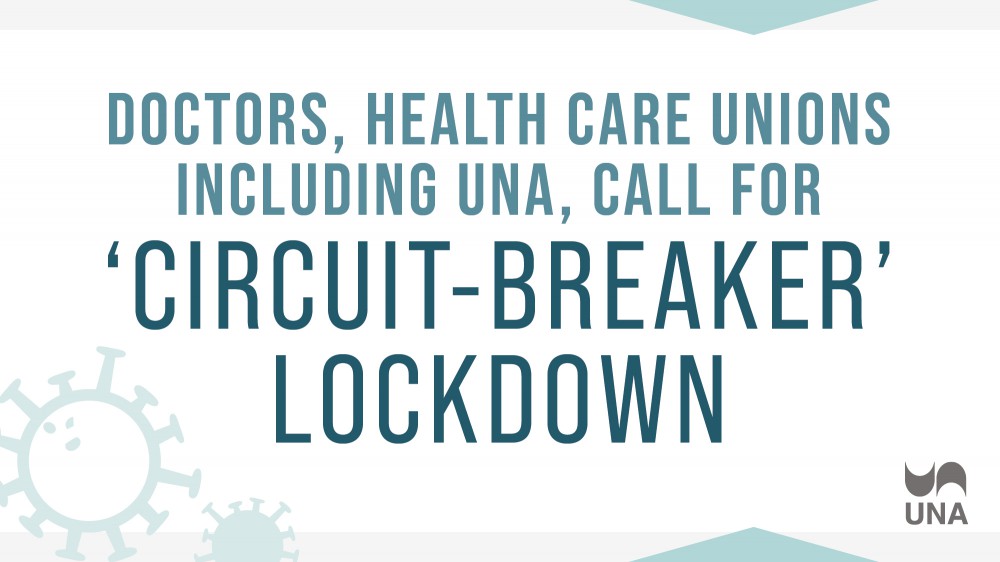 More than 430 physicians and three major health-care unions including United Nurses of Alberta have signed a letter sent today to Alberta Premier Jason Kenney endorsing calling for a "circuit breaker" lockdown to slow the surge in cases of COVID-19 throughout the province.
"We have reached a juncture where only strong and decisive mandatory measures can prevent our hospitals from becoming overwhelmed," says the letter.
The letter calls for:
Those who can to be directed to work from home
Limiting contacts to one household or a small support bubble
Restrictions on group recreation and sports activities
Suspension of group indoor activities, including indoor dining, bars, casinos, religious services and theatres
"There is no more time. We have to act now," Dr. Tehseen Ladha, who co-authored the letter, told the CBC. "We need something strong and mandatory in order to bend the curve."
The letter states: "The time for incremental measures has passed, and voluntary measures, requested October 9, have not blunted the rise in cases. Our testing system is strained, and contact tracing capacities have collapsed. We see no other way to break chains of transmission and decrease cases, than to implement a 'circuit breaker' of short, strict measures. Similar restrictions have been recently implemented in Winnipeg, the United Kingdom, and Germany.
"The evolving evidence suggests that strong, time-limited measures will not only minimize the second wave but could prevent the need for the complete lockdowns that become inevitable when the health system becomes overwhelmed. A failure to control COVID-19 spread means we cannot expect our economy to recover quickly or strongly.
"We are proud of Alberta's health system and the quality of care we provide, but we believe that is in grave jeopardy unless urgent action is taken," the letter concludes.
Premier Kenney is expected to attend the COVID-19 update with Chief Medical Officer of Health Dr. Deena Hinshaw this afternoon.