Nurses and supporters rally against cuts at more than 33 locations across Alberta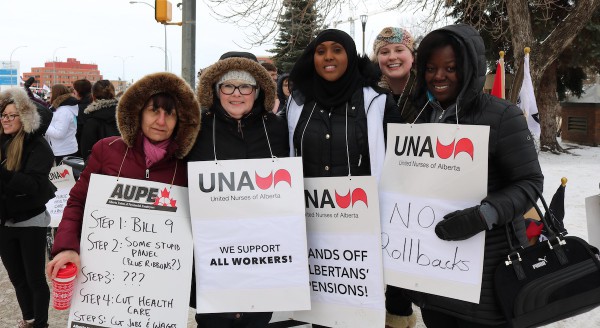 Members of United Nurses of Alberta sent a pre-Valentine's Day message on Feb. 13, 2020 of their commitment to Albertans and our province's public health care system.
The message took the form of information walks and other activities at health care facilities where Registered Nurses and Registered Psychiatric Nurses represented by UNA work and other locations throughout the province. Members of other health care unions, including AUPE, HSAA, CUPE, Unifor, and Teamsters, joined the information walks at many locations.
In all, information walks and events took place at more than 33 locations in dozens of communities, including Calgary, Edmonton, Bonnyville, Bow Island, Camrose, Drayton Valley, Drumheller, Edson, Fairview, Fort McMurray, High River, Hinton, Jasper, Lac La Biche, Leduc, Lethbridge, McLennan, Medicine Hat, Olds, Oyen, Peace River, Red Deer, St. Albert, Spirit River, Stony Plain, Vegreville, and Vermilion.
The information walks were held to show support for publicly delivered health care and all the front-line workers who make it happen. Most Alberta health care workers including UNA members are facing the possibility of layoffs and major rollbacks of contract provisions. As many as 750 RNs and RPNs could be laid off in the next year in downsizing planned by Alberta Health Services.
Formal bargaining for UNA's Provincial Collective Agreement began on Jan. 15 with public-sector employers proposing four years of pay freezes and massive rollbacks to the nurses' current collective agreement.
UNA members' Valentine's message to the people of Alberta was this: Health care workers like nurses are the heart of Alberta's health care system, which is the envy of the world. Don't let our government cut the heart out of health care!
UNA represents more than 30,000 Registered Nurses, Registered Psychiatric Nurses and allied health care workers and public, not-for-profit and for-profit health care and seniors' care facilities throughout Alberta.