Don't just mourn, organize for safer workplaces, UNA president says in International Day of Mourning remarks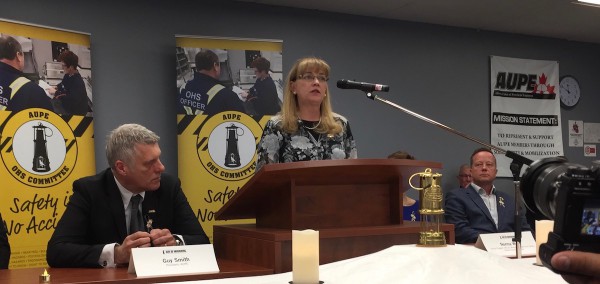 While it is important to mourn working people who have lost their lives in workplace accidents and incidents, or who have been injured or suffered illness due to workplace hazards or incident, that is not enough, UNA President Heather Smith told an Edmonton meeting on workplace safety Friday.
Unions and working people need to mark the International Day of Mourning for workers killed, injured, disabled or made sick on the job by recommitting themselves to making all workplaces safer for everyone, Smith said.
The Day of Mourning falls each year on April 28. Because of the weekend, workplace ceremonies were held Friday at UNA's Provincial Office in Edmonton and later in the morning at the headquarters of the Alberta Union of Provincial Employees, which holds an annual April conference on workplace health and safety issues.
"We do have a problem in Alberta, and particularly in health care," Smith said in short remarks at the AUPE ceremony.
"Health care workers and nurses in particular deal with people in physical and mental distress," she said. "A hospital visit can be a frightening and emotional time for the sick and injured, the elderly, their family members." Naturally, she observed, this can lead to situations that quickly become volatile.
Smith said Alberta Workers Compensation Board statistics that the rate of workplace violence claims accepted by the WCB for health care workers is more than twice the rate for government and education workers, roughly 50 times the rate for manufacturing workers, and 60 times the rate for construction workers.
Moreover, she said, a recent survey of UNA members showed workplace violence, harassment and other forms of staff abuse affecting nurses continues to be a significant problem in Alberta health care workplaces.
"Close to half the working nurses who responded to our survey said they had experienced physical violence such as being pushed, hit or having things thrown at them at work in the previous 12 months," Smith said. "Almost 18 per cent said they had experienced physical violence at work during their most recent five shifts."
More troublingly, Smith added, respondents to the survey little has happened to improve this situation. "What used to be a problem continues to be a problem."
Accordingly, Smith called on governments and health care employers to continue working to improve measures to reduce the amount of violence, bullying and other abuse in our workplaces. "The best way to do this, we believe, is to assure staffing in health care workplaces is at appropriate, and safe, levels.
"That's the best way to make health care workplaces safer for nurses and other medical staff – and for patients, their loved ones, their friends and anyone in a health care worksite," she said.
Both AUPE President Guy Smith and Health Sciences Association of Alberta President Mike Parker reinforced the UNA president's remarks in their comments.
"We're seeing a disturbing increase of health care workers affected by violence," the AUPE president said.
HSAA's Parker warned of the impact of domestic violence when it takes place at work, calling for action to protect victims.
Alberta Labour Minister Christina Gray, who attended Friday's meeting, noted that new OH&S laws passed by the NDP Government will come into effect on June 1. "It is a right for Albertans to be safe at work," she said forcefully. "Any work-related death is one too many."
Heather Smith noted that better staffing also results in better medical outcomes.
She also called for "appropriate levels of security in all public health care workplaces – and that includes small rural hospitals" – an observation that brought a round of applause from the participants in the AUPE OH&S conference. "That means security that is there all the time," she explained, and not potentially hours away, as is now often the case.
"It's important to remember and mourn the victims of workplace tragedies," Smith concluded her remarks. "But we also do not want workplace violence to be 'the norm' – not today, not tomorrow!"