UNA takes to airwaves to speak up for nursing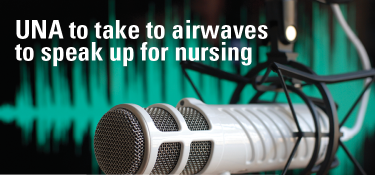 United Nurses of Alberta is speaking up about health care in Alberta on behalf of its members, their patients, families and all Albertans.
In a radio advertising campaign running from March 9 to 22, 2015, the union for 30,000 Alberta Registered Nurses and Registered Psychiatric Nurses will remind the public that cuts to health care and the inevitable impact of cuts on nursing will contribute to a significant problem for patient care.
With major changes to health care funding being talked about daily by the government, the two 30-second radio spots that will be heard throughout Alberta will aim to help Albertans see through the competing claims to understand what's wrong with the idea cuts are the only option.