Respect for nurses key to fixing staffing crisis say delegates at UNA AGM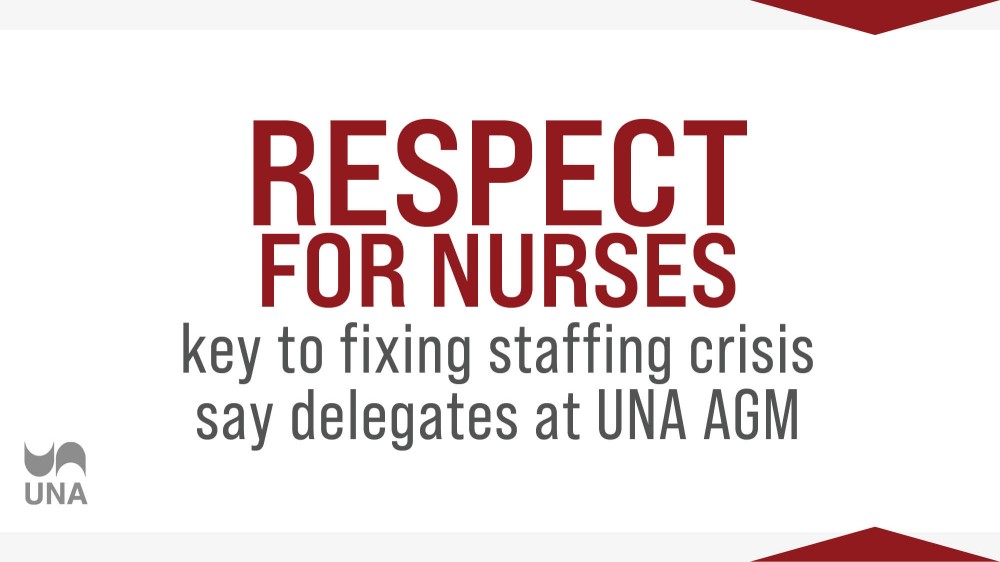 Respect for nurses in Alberta's public health care system was top priority for members of United Nurses of Alberta who attended the union's successful Annual General Meeting from October 17 to 19 at the EXPO Centre in Edmonton.
With more than 1,000 delegates, observers, guests and staff in attendance, nurses from across Alberta debated and voted on motions impacting the internal governance and operations of the union. The AGM took place as UNA relaunched its 3Rs campaign: Respect, Retain, Recruit, and those themes resonated strongly with nurses at the meeting.
Over the course of the three-day meeting, attendees heard from UNA President Heather Smith and guest speakers, including national radio program host Dr. Brian Goldman, author Andrew Nikiforuk, Canadian Federation of Nurses Union President Linda Silas, College of Registered Psychiatric Nurses of Alberta President Tonya Ratushniak, UNA member Barbara Campbell, Manitoba Nurses Union President Darlene Jackson, and Alberta Federation of Labour President Gil McGowan.
Delegates also voted to elect two positions on the union's executive board and numerous regional representative spots.
Danielle Larivee was re-elected as First Vice-President and Christina Doktor was acclaimed as Secretary-Treasurer.
Danielle Larivee is a Registered Nurse and was first elected to the position in 2019. Danielle previously served as President of UNA Local 315 Keeweetinok Lakes (Community) and from 2015 to 2019 was the MLA for Lesser Slave Lake and as an Alberta cabinet minister.
Christina Doktor is a Registered Nurse and member of Local 196 (Edmonton Community). Christina has served as a North Central District representative on UNA's provincial board since 2006 and most recently served as vice-chair of UNA's Finance Committee. She also served as Secretary of Local 301 from 2004 to 2008.
Doktor succeeds long-time Secretary-Treasurer Karen Craik, who was first elected to the position in 1996 after serving a decade as a representative from the South Central District. Craik is a member of UNA Local 115 (Foothills Medical Centre) and has been an effective advocate for Alberta nurses and improved workplace conditions for all workers. She is founding chair of the Calgary Workers' Resource Centre, now known as the Workers' Resource Centre.
UNA congratulates North District representative Jerry Macdonald, North Central District representatives Terri Barr, Jennifer Castro, Cathleen Cobb, Christine Moncrieff, and Stephanie Pickett, Central District representative Donica Geddes, South Central District representatives Barbara Campbell, Marie Corns, Ken Ewanchuk, Edith-Rose Cairns, and South District representative Melinda Skanderup on their election to those roles.
UNA thanks outgoing district representatives Tim Bouwsema, Susan Fisk, Jennifer Knight, and John Terry for their tireless service, dedication and contributions to the union on the provincial and local levels.
UNA's next AGM is scheduled for October 2024.
United Nurses of Alberta is the union for more than 35,000 Registered Nurses, Registered Psychiatric Nurses and allied health workers.