UNA concerned about Long-Term Care closures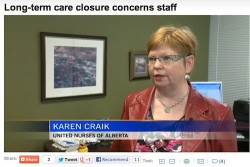 "When you start taking Long Term Care out of the public system it starts to put more burden on the families because they have to pay for everything as opposed to the public system," United Nurses of Alberta's Karen Craik told CTV Calgary.

"And also it starts to reduce your staff mix. They don't necessarily have Registered Nurses in the new Long Term Care facility that they are opening up in Strathmore to do direct care," said Craik. "They are also closing Long Term Care in Bashaw, another small community in Alberta, and as well in Stettler. It's all just to offload Long Term Care into a private-for-profit system"