Education workshops for UNA members in September and October 2022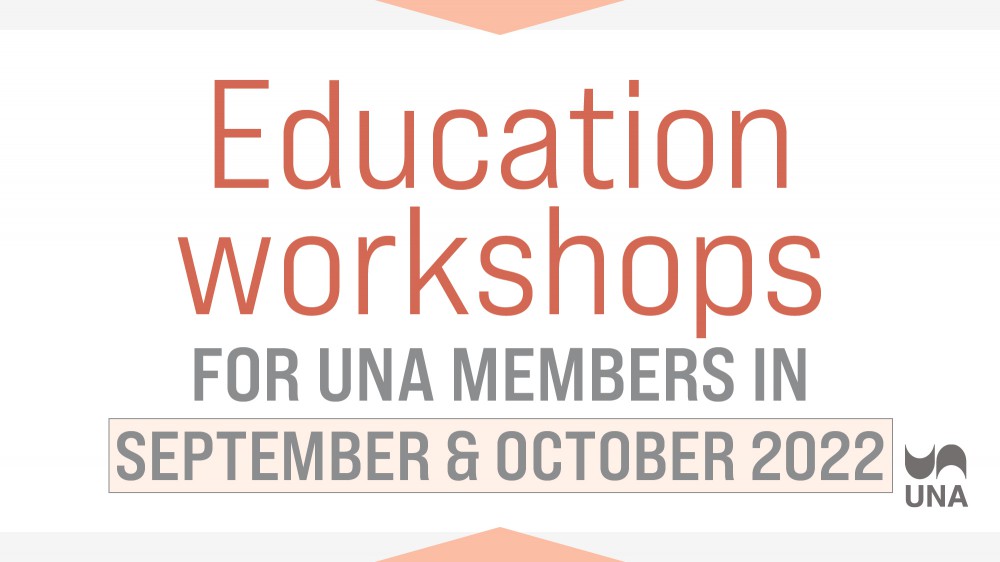 United Nurses of Alberta is pleased to offer a number of online and self-directed education workshops for members to participate in September and October 2022. Any UNA member who would like to become more knowledgeable and engaged can get a head start through the union's educational workshops, which provide members with a wealth of information, a space for discussion, and activity-based learning.
If a workshop is full, please check ahead for future dates or email events@una.ca to be added to a waitlist.
Full workshop descriptions and funding information can be found on the Education page of the UNA website.
September & October 2022 Workshops (Online)
Workshops for UNA Members:
Know Your Rights (full day) – September 8 and October 6
Dealing With Abuse (full day) – October 12 and October 26
Boundaries & Self Care – October 25 (morning)
Workshops for Unit/Office Representatives & Local Execs:
Engagement & Support (full day) –

September

22
Taking Action (full day) – October 27
Workshops for Committee Members:
OH&S Advanced (full day) –

September

13
PRC Workshop (full day) –

September

14
Workshops for Local Execs:
Supporting Members in Distress –

September

7 (afternoon)
How to Run a Local: Labour Relations (full day) –

September

15
How to Run a Local: Finance (full day) –

September

20 and

September

28
How to Run a Local: Administration (full day) – October 4
Local Budget Q&A
We are offering short sessions to provide Local Executives with an opportunity to ask any questions about Local budgets or the budget form in DMS. Local Execs who have not taken the Finance workshop should take that workshop first.
September

22 from 10:00 - 11:00

September

22 from 19:30 - 20:30
October 5 from 11:00 - 12:00
October 5 from 16:00 - 17:00
Register Online
UNA members who have activated their UNAnet accounts can register online via DMS. Any Local Executive member can register members of their Local in workshops by navigating to Local Admin > Events in DMS.
Please check the Events Calendar and DMS Events regularly as the workshop schedule may have changes or additions. Contact events@una.ca with any questions related to workshops or registration.