UNA brings staffing crisis concerns directly to Health Minister Jason Copping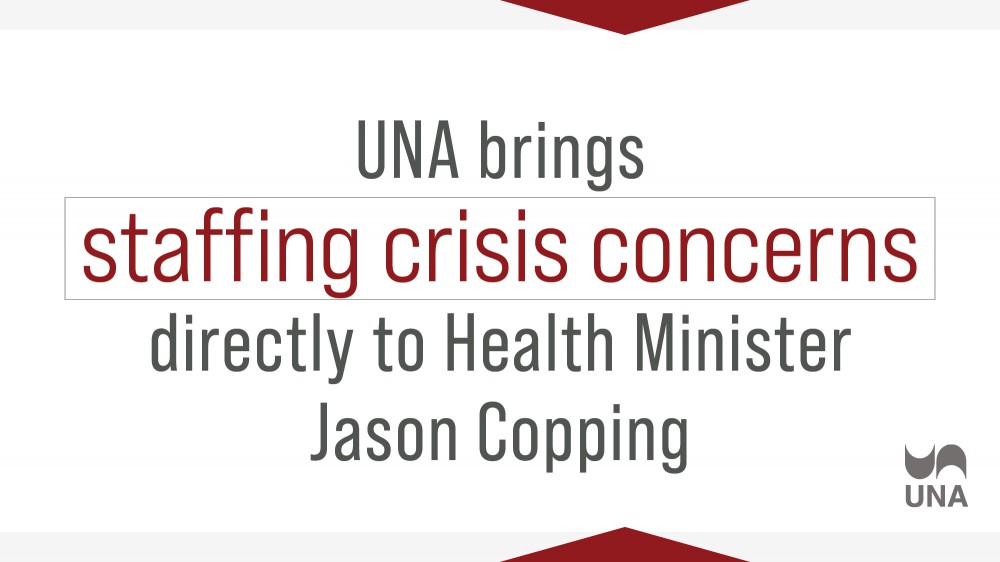 The staffing crisis and privatization were at the top of the list when United Nurses of Alberta leaders met with Health Minister Jason Copping on
June 8
.
UNA's elected executive officers stressed that the shortage of nurses has created a crisis in the public health care system and increased pressure on nurses across Alberta.
UNA also raised very serious concerns about how the increased contracting out of health care services will impact UNA members, other health care workers and Albertans.
UNA made it clear that the provincial government must publicly acknowledge that there is a crisis and take immediate measures to retain nurses still in the profession and recruit and educate new ones.
Minister Copping expressed his appreciation for the work nurses have done and acknowledged that unions are partners in solving the staffing crisis. But, unfortunately, he appeared committed to the further privatization of surgical services in Alberta.
UNA will follow-up with Minister Copping to ensure there is action being taken following the meeting.
This was the first meeting between UNA and a health minister since the UCP formed government in 2019. Numerous requests for a meeting with previous health minister Tyler Shandro were declined or left unanswered.
United Nurses of Alberta is the union for more than 30,000 Registered Nurses, Registered Psychiatric Nurses and allied workers in Alberta. Since 1977, UNA has been an effective advocate for nurses, the nursing profession and Canada's fair and efficient public health care system.