UNA gravely concerned by staffing crisis at Alberta Children's Hospital, other facilities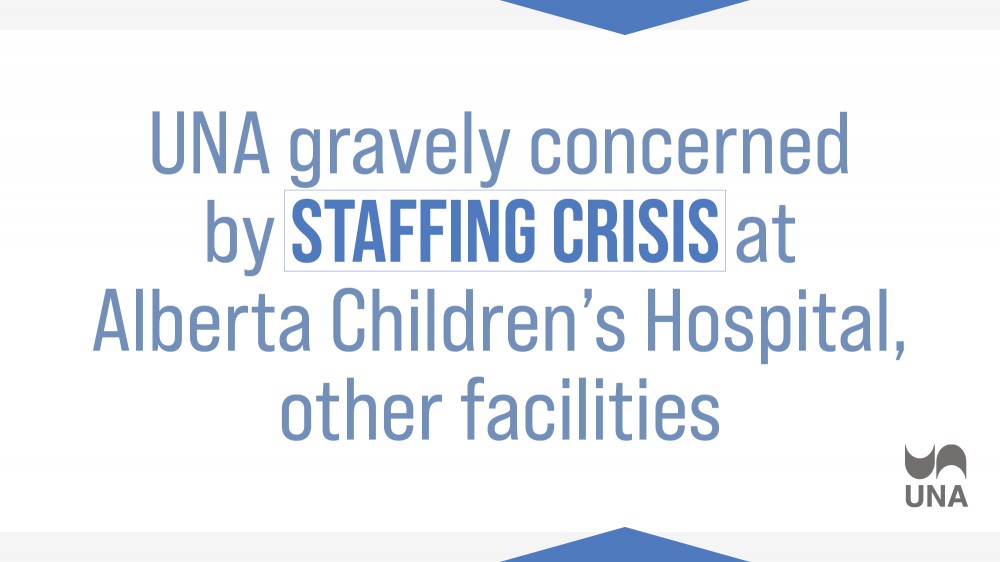 United Nurses of Alberta is gravely concerned by the situation described in a letter outlining the serious difficulties faced by nursing staff at the Alberta Children's Hospital in Calgary and other health care facilities throughout Alberta.
While the authors of the letter, which was sent to media last Friday, are not known, UNA can attest that the circumstances it describes are real and require an immediate and focused response from the Government of Alberta.
The letter describes "sick kids standing outside in the rain" as they and their parents await triage at Alberta Children's Hospital. "It is taking 2-3 hours just to be triaged adding to astronomical waiting times.
"Waiting rooms are full. Health care professionals cannot keep up with required reassessments based on the acuity of patients. The department is full. There is nowhere to put a patient that urgently needs a bed …"
"Patients are coming by private vehicle because when they call for an ambulance they are being told there aren't any. There are no available ambulances on the road. Let that sink in …"
The letter concludes: "We need nurses now. We need doctors now. We need more first responders now. We need more support staff now. We need more security staff now. We need more bed capacity now. We need more mental health beds now. The ship is sinking and we are all going down with it …"
The crisis continues at Alberta Children's Hospital. Pediatric nurses, who for the past two years of COVID-19 have pitched in to aid adult patients gravely ill with COVID-19, are now pleading for help. Staff face repeated calls to work mandated overtime, denials of personal leave and vacation days. Exhaustion, burnout, and despair are rampant.
Meanwhile, similar stories are being told at health care facilities throughout the province.
This situation must be resolved. Lives are at risk. The Government of Alberta and Alberta Health Services must take emergency measures to address this critical nursing shortage immediately. The first step is to acknowledge that there is a serious problem, resolution of which must include retention of the current nursing resources while sincere efforts are put in place for the training and recruitment of new nurses. United Nurses of Alberta stands ready to advise and contribute to developing emergency strategies to cope with this ongoing crisis.
Click here to read a copy of the letter.