Alberta Nurses to participate in National Day of Action on September 17, 2021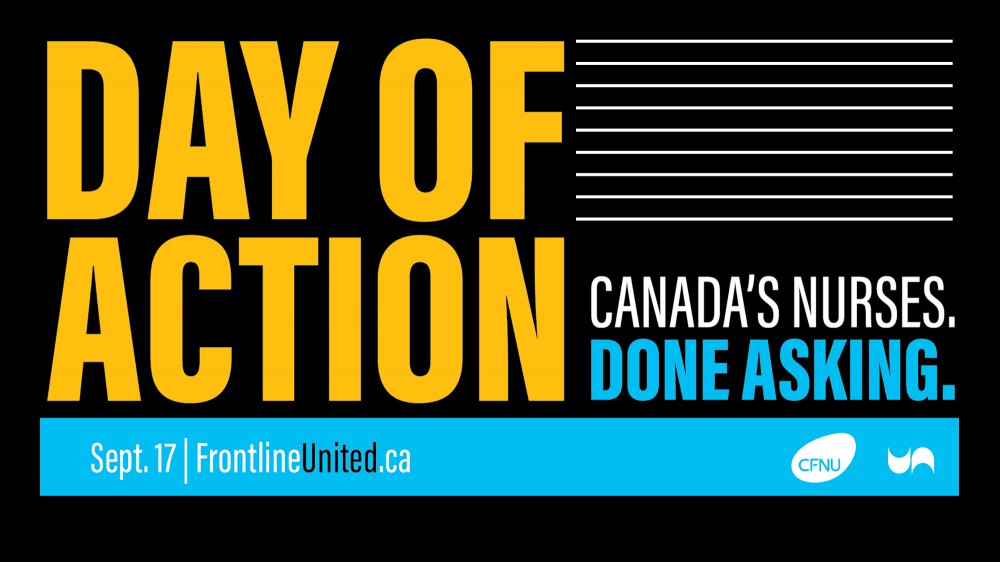 UNA members and supporters are encouraged to participate in a
National Day of Action on September 17, 2021
, protesting the lack of government action to fix the critical nursing shortage and make urgently needed improvements to Alberta's beleaguered health care system. The day of action was called by the Canadian Federation of Nurses Unions to express mounting frustration among overworked frontline health care workers.
Because of the sharp rise in COVID-19 cases across Alberta, UNA is encouraging members and locals to participate in ways other than traditional in-person rallies or info-pickets.
- Post an "I'M DONE ASKING" photo message. Download and print one of the attached Action Cards, write a message in it and post it on your social media using the hashtags #SupportNurses #DoneAsking and #IStandWithABNurses and tag UNA's social media account.
- Call or email your local MLA. We have prepared a call script and key messages (see attached) that will help you decide what you might want to tell your MLA about the current staffing crisis facing nurses in Alberta. Use the postal code search to find your MLA's contact information.
- UNA Locals in Edmonton are organizing a socially distanced Car Convoy on Sept. 17. All UNA members and supporters are welcome to join the group at 9:00 a.m. in the south west side parking lot at Mill Woods Towne Centre (2331 66 St NW, Edmonton) to decorate their cars and banners with messages. The convoy will depart at 10:00 a.m. and drive by the Grey Nuns Community Hospital, the St. Joseph's Auxiliary Hospital, Edmonton General Hospital, University of Alberta Hospital, Royal Alexandra Hospital and Misericordia Hospital. From that point the convoy may continue to drive by other hospitals in the surrounding area (more information will be posted as it becomes available). Contact local79exec@una.ca for more information.
If your local is planning an event on Sept. 17 for the National Day of Action please share the details in a comment below.