Nurses Week 2021: Alberta needs nurses; don't pull the plug on public health care!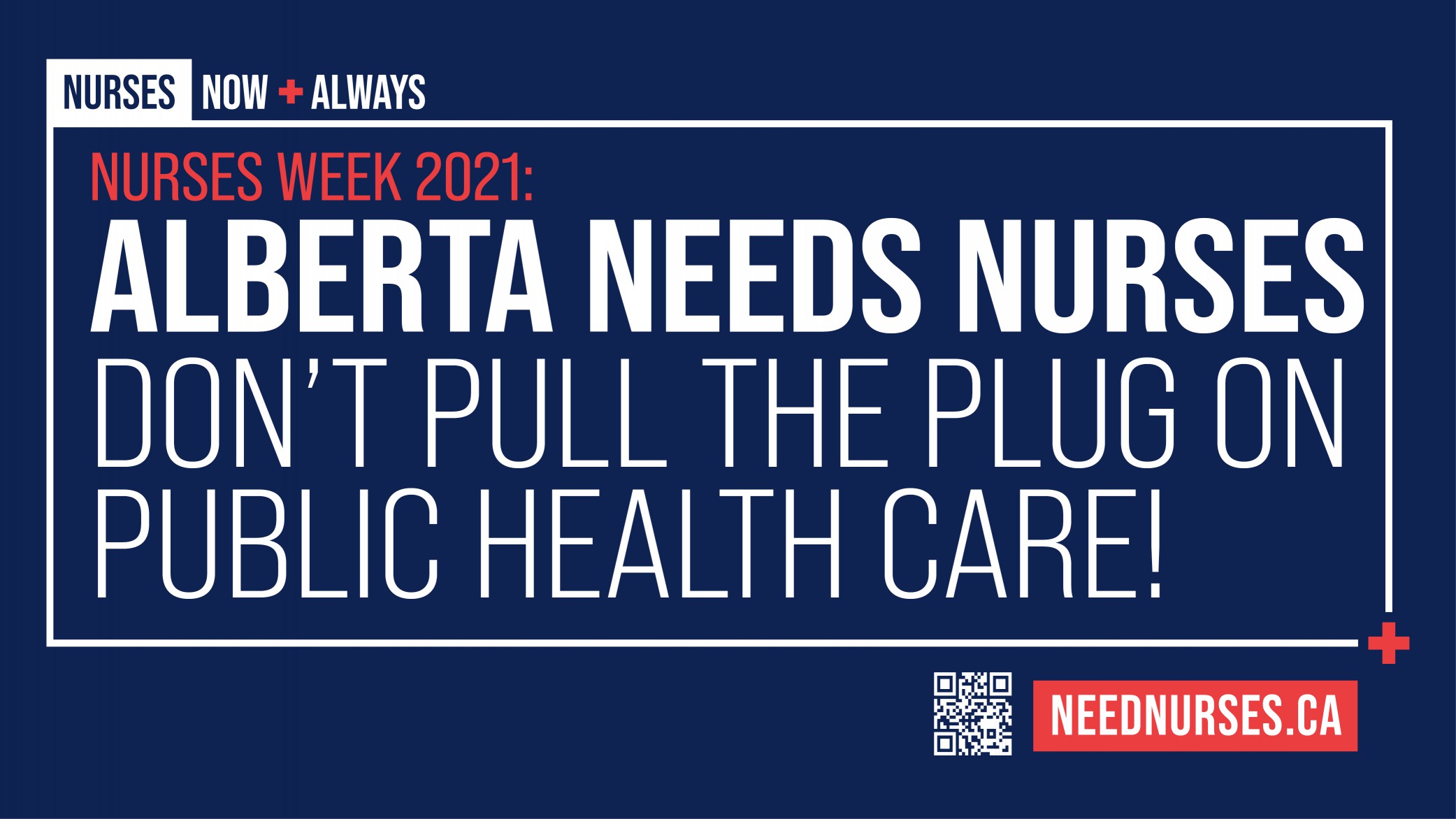 Today marks the start of International Nurses Week, 2021.

This year's Nurses Week theme in Canada is "We answer the call."
While this could be said of nurses anywhere, in any year, it is particularly poignant in the year of a global pandemic that has taken literally millions of lives.
In every country, state and province throughout the world, nurses have been on the front lines of the COVID-19 crisis – risking their lives, their psychological wellbeing, fighting to save their patients, often in the face of great odds.
This is no different in Alberta, but there is a significant additional factor here as well.
Our province is governed by a group determined to privatize our public health care system and openly planning to lay off thousands of health care workers, including more than 750 Registered Nurses and Registered Psychiatric Nurses.
Never has it been more obvious that Canadians need nurses now. Yet Premier Kenney, Minister Shandro and the UCP government remain committed to their cuts.
Despite the justifications we will hear for the Alberta government's plan to eliminate nurses' jobs and privatize health care positions, the serious problems Alberta's nurses face – staff shortages, mandatory overtime, lack of resources – are the result of chronic underfunding by governments. The pandemic is making everything worse.
Today, in recognition of this ongoing attack on Alberta's health care system, United Nurses of Alberta is launching a powerful video about what cutting nursing jobs will mean for Alberta.
Throughout Nurses Week, we will be launching three additional videos in which UNA members, RNs and RPNs, tell their stories of working in the pandemic while facing dangerous cuts to the health care system.
We urge all Albertans to visit NeedNurses.ca and make your voices heard to the government that it must stop these cuts. Add your name to the open letter. Sign the petition. Request a lawn sign. Join the thousands of Albertans who are uniting to protect Alberta's nurses and our public health care system.
Albertans know that we need nurses. Not just now, in the middle of a pandemic, but always.
Join us in taking action to stop the cuts.
UNA is the union for more than 30,000 Alberta Registered Nurses, Registered Psychiatric Nurses and allied health care workers.