UNA president urges premier to reopen with caution, mindful of COVID-19 variants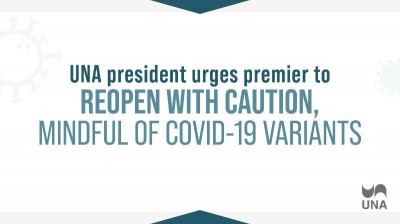 Alberta's nurses are deeply concerned about the government's decision to loosen restrictions on businesses, and sports and social activities, just as new variant coronavirus strains begin to appear in Western Canada, UNA President Heather Smith said in a letter to Premier Jason Kenney today.
Smith urged the premier to take a cautious approach to easing pandemic restrictions until sufficient numbers of Albertans have been vaccinated and COVID-19 is clearly trending downward.
Allowing more infectious and potentially lethal variants of the coronavirus to spread by being too quick to ease restrictions now could push the health care system to the brink and risk forcing Alberta back into more severe restrictions.
"Our members are already exhausted and overwhelmed by what has happened to date," she wrote. "These front-line workers are the greatest asset our health care system has. We must protect them if we are to protect all Albertans – and that must be part of our decisions of how we respond to the pandemic."
Smith also asked Kenney not to rely solely on hospitalizations in deciding when to reopen. "Rates of hospitalization and ICU occupancy are lagging indicators," she cautioned. "All measures – including R-value, positivity rates and new cases – should be driving our decisions about how much and how quickly to return to normal business."
In addition, Smith urged Kenney to permit Albertans to use of the federal COVID-19 tracing app given the high percentage of cases in Alberta that have no known source.
UNA believes that with a successful vaccination program and measures by avoiding successive waves that would push us backward, the time will come soon for the economy to fully reopen.
But hurrying to reopen before sufficient numbers of Albertans have been vaccinated is a high-risk strategy, she said. "Please act with that risk in mind."