UNA hosting Wellness, Resiliency and Coping Symposium on Jan. 29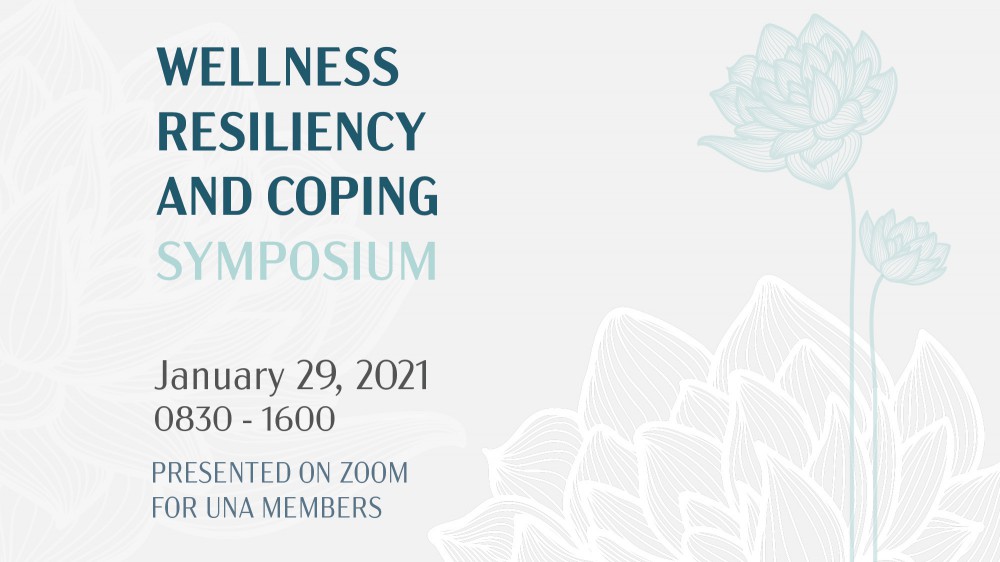 The COVID-19 pandemic has thrown us all into incredibly strange, stressful and unusual times. Like everyone around us, our lives have been turned upside down; we're all trying to adapt to these constant, often quick and seemingly never ending changes. Needless to say, it is understandable that our stress levels are high and we are feeling burnt out.

With this knowledge in mind, United Nurses of Alberta invites members to join us for a Wellness, Resiliency and Coping Symposium on Jan. 29, 2021 from 8:30 a.m. to 4:00 p.m on Zoom.
UNA has invited a series of speakers to help us navigate through these unprecedented times. They will present to us on methods to help overcome the hard conversations we are having with ourselves and our friends/families, will help teach us relaxation and stress relieving methods and how to cope with an ever changing workplace.
UNA members planning to attend are encouraged to request a Professional Development Day.

Members who are unable attend this symposium live will have the opportunity to view a recorded version following the event. More information will be available soon on how to access the recording and the deadline when it will no longer be available as per the terms of the presenters.
---
Wellness, Resiliency and Coping Symposium
Agenda
8:30 a.m. - Yoga with Barb Campbell (optional participation)
9:15 a.m. - Introduction and land acknowledgment
9:20 a.m. - Heather Smith, UNA President
9:30 a.m. - Barb Campbell - Tool Kit for Your Mind
10:00 a.m. - Linda Silas, President of the Canadian Federation of Nurses Unions
10:20 a.m. - Refreshment Break
10:40 a.m. - Kim Hyshka- Conversations that really matter: From chaos to committed
12:10 p.m. - Lunch
12:45 p.m. - Barb Bancroft - Best Bets
2:15 p.m. - Refreshment break
2:30 p.m. - Barb Bancroft - Best Bets continued
3:30 p.m. - Barb Campbell - Relaxation and Meditation Techniques
---
GUEST SPEAKERS
Barb Campbell
Barb Campbell is a passionate Mom, wife, daughter, sister, aunt, friend, neighbor…and by profession, a Registered Nurse. Barb is also a Life Coach and has her coaching certificate in Addictions/Recovery.
Barb Bancroft
Barb Bancroft RN, MSN, PNP is a widely acclaimed national speaker, noted for her humorous, entertaining and information packed seminars. She is author of the books Medical Minutiae, An Apple a Day - The ABCs of Diet and Disease and Live a little, Laugh a Lot. Many people can conduct health seminars, or write books on health, but very few can make them both thoroughly informative and entertaining.
Kim Hyshka
Kim Hyshka has worked with a wide variety of individuals and organizations, including municipal governments, environmental organizations, rural landowners and more. Most recently she has focused her attention to the practice of consultation with Aboriginal communities and the best part of her job, sharing and experiencing in other person's culture and customs. She brings people together to create momentum for positive change. She is passionate about conversations that matter and in helping people create connection within themselves and those around them.