Bill 30 paves the way for more privatization in Alberta's health care system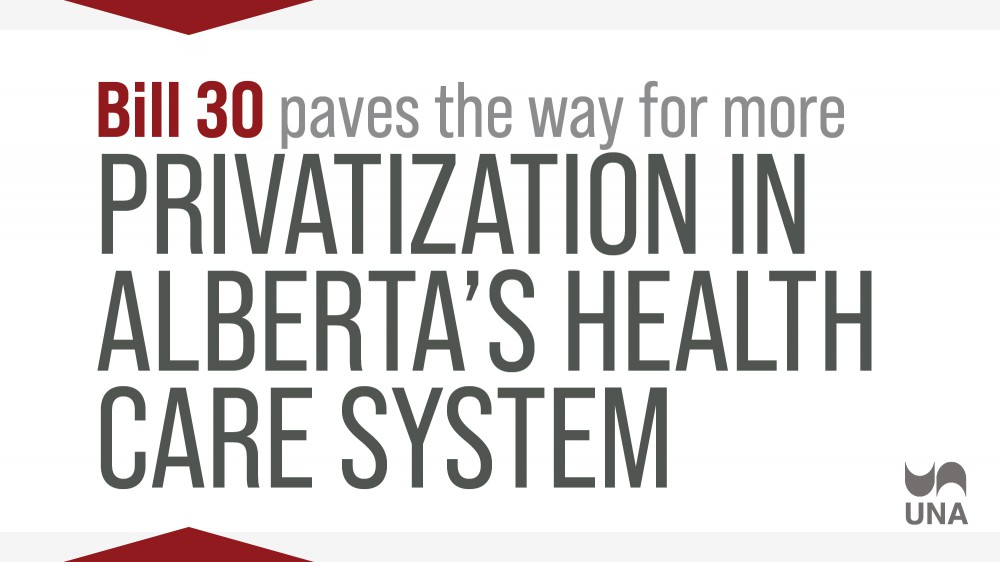 United Nurses of Alberta opposes the expansion of private-for-profit surgical companies as proposed in the UCP government's Bill 30 that aims to undermine the public health care system in Alberta.
The bill, known as the Health Statutes Amendment Act, was introduced by Health Minister Tyler Shandro on July 6 and would make sweeping changes to public health care in Alberta, including lowering the bar for the approval of new private clinics and private surgical facilities.
The changes included in Bill 30 pave the way to turn over public resources, funding and staff to private companies at the expense of the public system.

UNA believes that rather than subsidizing private surgical companies, the government should work to increase capacity within Alberta's existing fair and efficient public health care system.

UNA is concerned that the expansion of surgeries conducted by private corporations under the guise of shortening wait times will have the opposite effect and introduce a dangerous profit motive into the health care system leading to longer wait times. Instead, public dollars should be used to support the frontlines of the public health care system, not the profits and shareholders of private companies.

UNA encourages its members and the public to contact their MLAs and urge them to stop the privatization of health care and uphold the foundational principles of equity and compassion that underlie Alberta's public health care system.

Contact your MLA and contact Health Minister Tyler Shandro: 780 427-3665 and health.minister@gov.ab.ca.
Bill 30: Paving the way for privatization webinar
Join Friends of Medicare for an important and timely online conversation with Dr Lorian Hardcastle and Dr Jillian Ratti to learn about Bill 30: Health Statutes Amendment Act and the major threat it poses to our public health care system.
Register for the Zoom webinar on July 30 at 6:00 PM as they discuss the contents of Bill 30 and the impacts it will have on all Albertans