UNA Vice-President comments on federal court ruling on childcare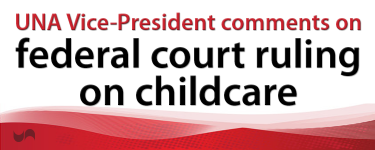 UNA Second Vice-President Jane Sustrik spoke with CBC Radio's Rick Harp about the recent federal court ruling on accommodating childcare needs of employees and the challenges faced by nurses working shift work.
The decision states that workplaces are obliged to accommodate reasonable childcare-related requests from their employees and signals significant changes ahead for the country's employment law landscape.
The interview was broadcast on CBC's Edmonton AM program on February 8, 2013.